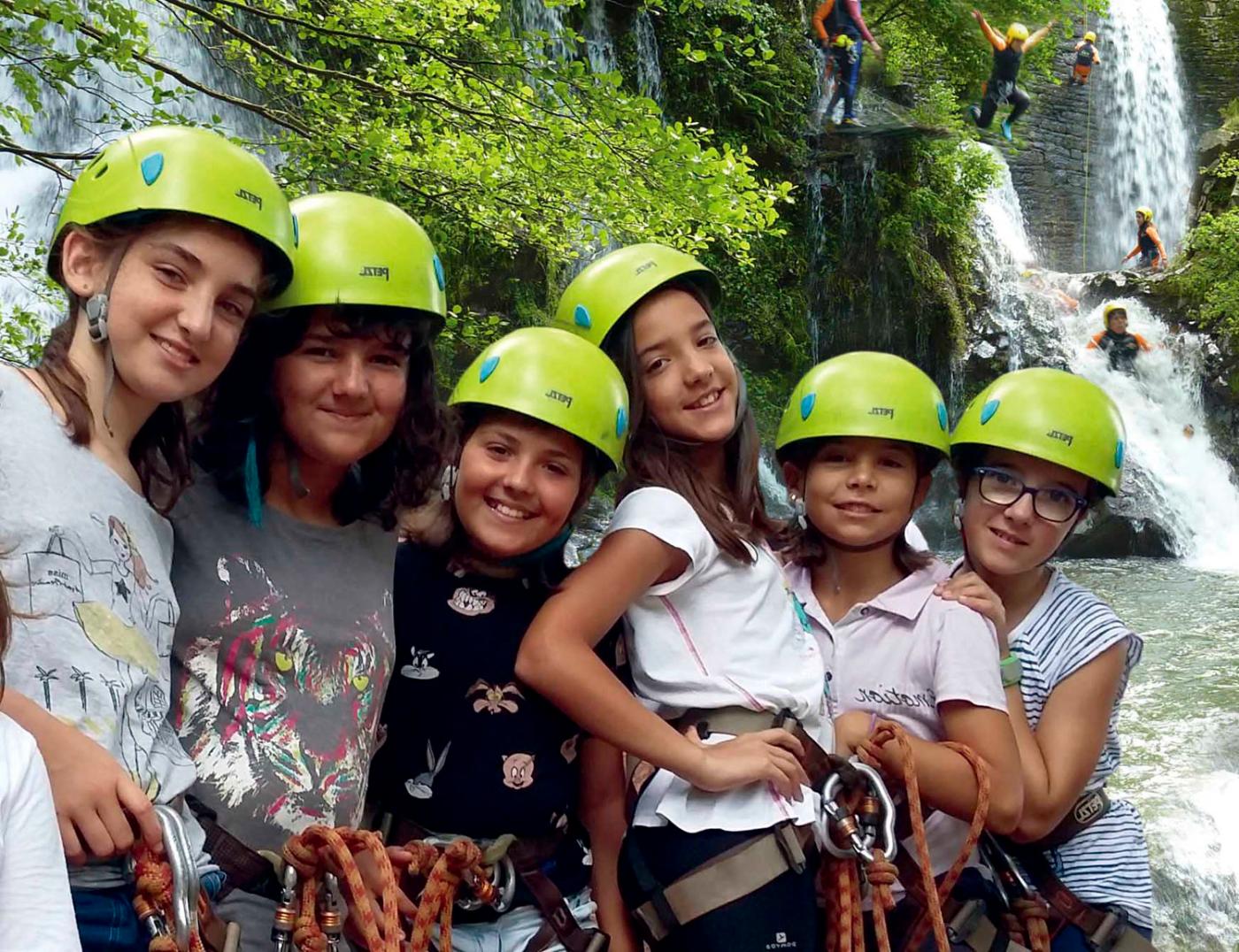 Adventure parks
When you take your troops to one of the Kingdom of Navarre's adventure parks, your day will echo with endless laughter against the background of the gentle sounds of nature.
These are places where family and nature combine. The best known is Sendaviva, but it's not the only adventure park in the Kingdom of Navarre. Here are our suggestions:
Accommodation for families
Whatever your family's like, the Kingdom of Navarre can provide accommodation to suit exactly what you have in mind. Take a look:
Rural holiday homes

With capacity to accommodate large and small groups; in some cases, they offer fun farming activities.

Hostels

For the most active families seeking extra adventure.

Campsites

The option of choice for those who love the outdoors.

Apartamentos

The perfect combination between the charm of hotels and the commodities of home.

Unusual accommodation

Sleep in the tree-house or in a cave or even in the middle of the desert.
See more accommodation in Navarre
Culture for all the family
The younger members of your family can learn a lot in Navarre. Is there anything better than helping them widen their knowledge while you have some family fun? Take note of these excursions:
Kingdom of Navarre castle route. The Cerco de Artajona, Javier Castle or Olite Castle are a real must-see. Let them run around exploring rooms and climbing towers.

Theatrical tours: throughout the year, a range of monuments and companies offer tours given by historical characters as a fun way of exploring our history. You'll all hang off their every word!

Stroll through the streets of picturesque villages brimming with centuries of history such as Ochagavía, Amaiur, Estella-Lizarra, Olite, Puente La Reina or Ujué, as they reveal many of the secrets of country life.

Visit the museums throughout the province: the Witch Museum in Zugarramurdi, the Stone Museum in Leitza or the Honey Museum in the Ultzama Valley are just a few examples.

Walk a section of the Way of St James to soak up the immense heritage that we are so proud of in Navarre—and throughout Spain.

Immerse yourselves in Navarrese idiosyncrasies and traditions, so that your kids can learn all about the Olentzero, rural sport or how windmills work.
See more on Cultural Tourism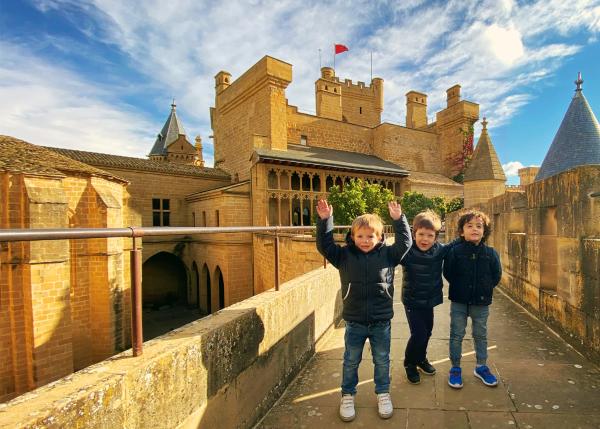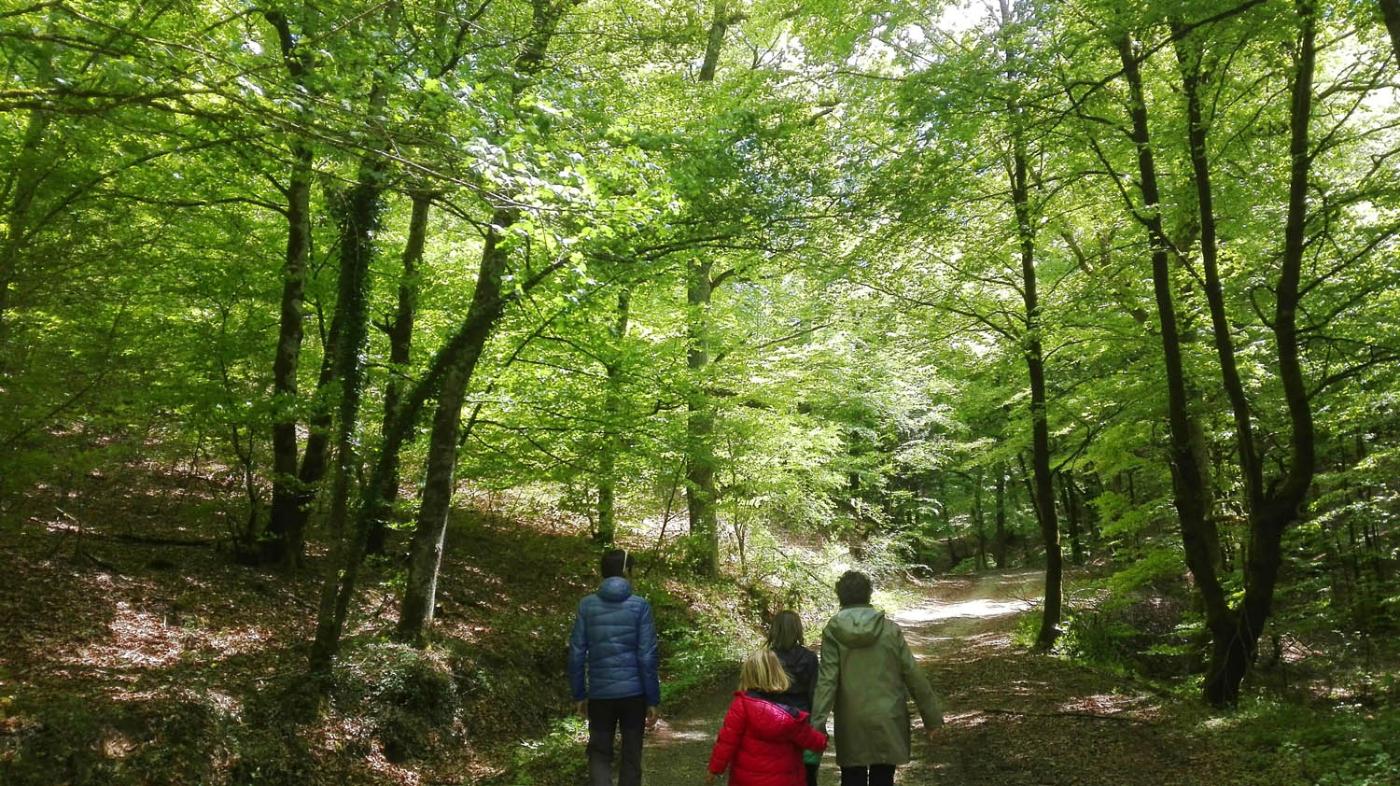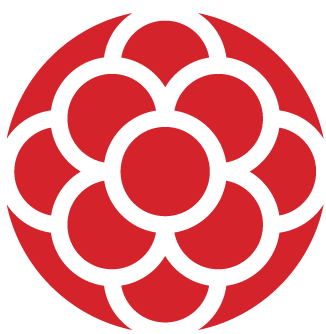 Surprise them with a whole world of nature
We take great care of the Kingdom of Navarre's natural surroundings as this might just be the province's greatest treasure.
The sheer abundance of excursions for kids makes it hard to summarise them here.
But we'll give it a try:
Witches' caves

These ancestral cavities are a natural resource that reveal a slice of the history of humanity to us and they are usually a big hit among children, particularly in Navarre, where some of these caves are the stuff of legends.

You can't leave without visiting the Cave of Zugarramurdi, the Caves of Urdazubi/Urdax and the Cave of Mendukilo.

Explore Navarre's caves

Breath-taking gorges

Nature has left impressive ravines throughout the Kingdom of Navarre which rivers have been excavating for thousands of years.

Don't miss out on a walk along the Gorge of Lumbier, crossed by the Irati Rail Trail, and the amazing views nearby from the Iso pass over the Gorge of Arbaiun. Both gorges are Nature Reserves.

Other gorges that are also worth a stop-off include Burgui, Benasa or Mintxate.

Delve into Navarre's ravines

Hiking paths with something for everyone

You can choose the Rail Trails to hike former train routes or cross leafy forests of monumental oak trees, such as the Orgi or Jauntsarats Forests or the thousand-year-old oaks in Etxarri Aranatz.

Other paths will take you off to discover landscapes dominated by water, such as the Source of the River Urederra, the Xorroxin Waterfall or the path around the Leurtza Reservoirs. There are also themed paths, such as the Dolmens in Artajona, the Pottoka Azul, the trades path in Burgui or the war bunkers in Auritz-Burguete.

Whatever you choose, you'll be able to soak up nature in all its splendour and spot some amazing native flora and fauna.

Let's go hiking in Navarre

Dreamy landscapes with mythological beings

Stroll under the beech trees, skip over streams, collect sticks, stones and pretty leaves... all while listening to the rustle of the wildlife around you. Sounds great, doesn't it?

Well, that's exactly what you can do with your family in places like the Irati Forest, the Señorío de Bertiz or Urbasa-Andía Natural Parks, the Quinto Real Forest or the Sierra de Aralar.

And you've got plenty to choose from.

To discover all the secrets held by these places, be sure to visit the Interpretation Centres in Bertiz, Ochagavía, Roncal and Lumbier.

Deserts with a lunar landscape

The Bardenas Reales are a real surprise, even more so in the north of mainland Spain, as you feel like you're in the heart of Africa or on the actual moon.

Don't miss the Castildetierra and Pisquerra formations and, if you have the time, stick around to listen to the silence and watch the sun go down. This is an exceptional environment that your kids will remember forever, doubtlessly the most impressive sight in Navarre.

All about the Bardenas
A day on the farm
Can you imagine how much your kids would love giving a kid goat their bottle or feeding chickens corn from their hands? What about the pleasure of making their own cheese or their excitement at picking lettuce from the garden?
As you know, they say that it's best to learn by doing and Navarre's farm schools have so much to teach you that you can't learn in books.
This is a real immersion in country life.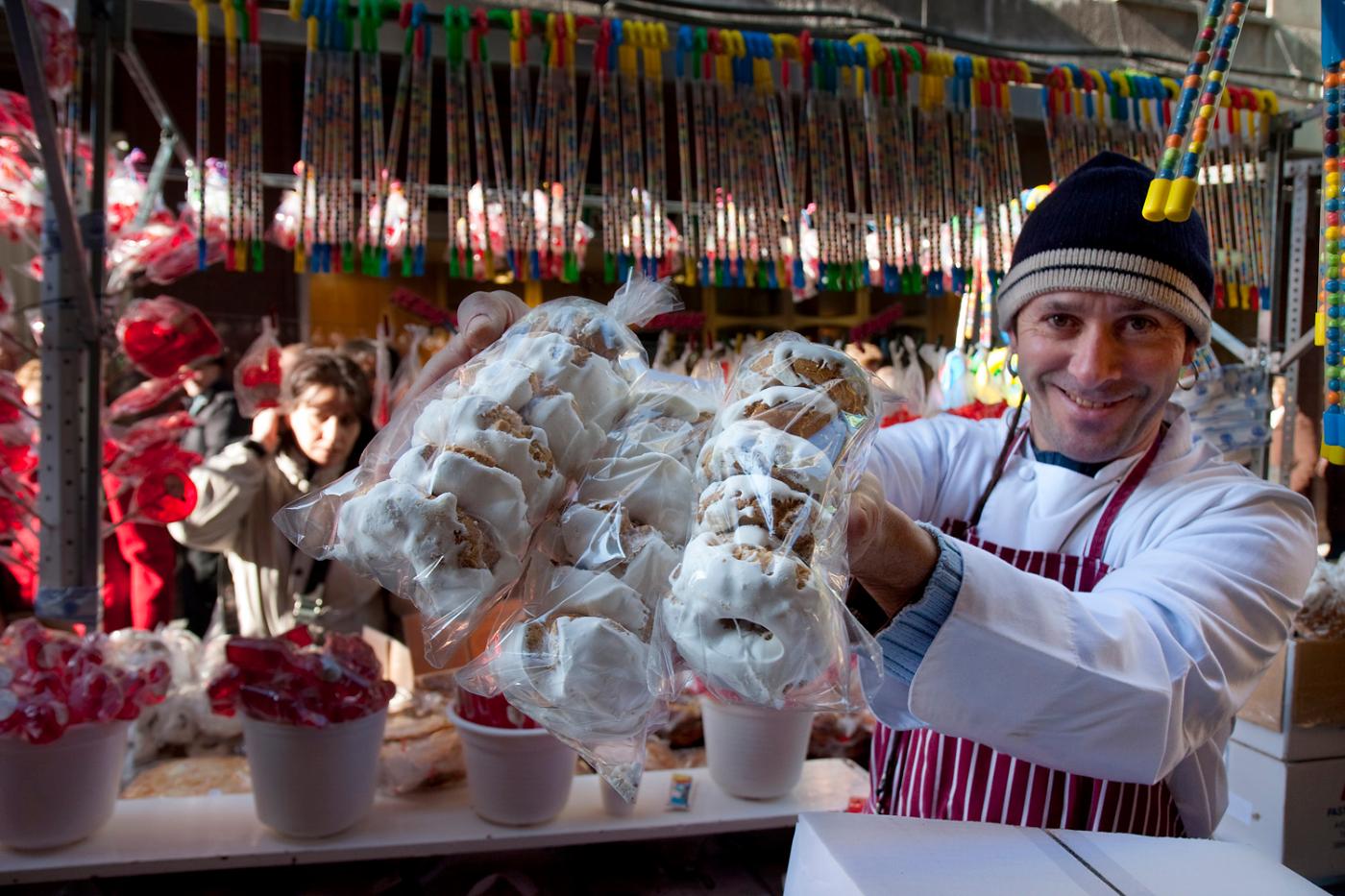 Urban family tourism
We can assure you that Navarre completely safe for a family visit.
And of course, loads of fun!
That's because its towns and cities are small, without the hustle and bustle of major cities, and there are loads of things for kids to do.
Pamplona with kids

What's not to be missed?

Firstly, the bull run route and a visit to the Bullring. The path along the River Arga and the route around the city walls and gardens where you can spot deer, geese and peacocks among other animals. And for curious kids, there's the Planetarium in Yamaguchi, a Japanese garden that you're bound to love.

Another great plan is to explore the Children's Cathedral or enjoy a show at one of the city's cultural venues with programmes running all year round.

Tudela with kids

You'll be amazed...

Let's start with a drink in the colourful Plaza de los Fueros to get a feel for the atmosphere! From there, you can follow the various Avant-Garde routes, which are large-scale works of art dotted around the walls of the city's old town.

Nor should you miss taking a walk to the Cerro de Santa Bárbara viewpoint brimming with history and amazing views, visit the Monreal Tower and its singular camera obscura without forgetting the city's gem, the cathedral.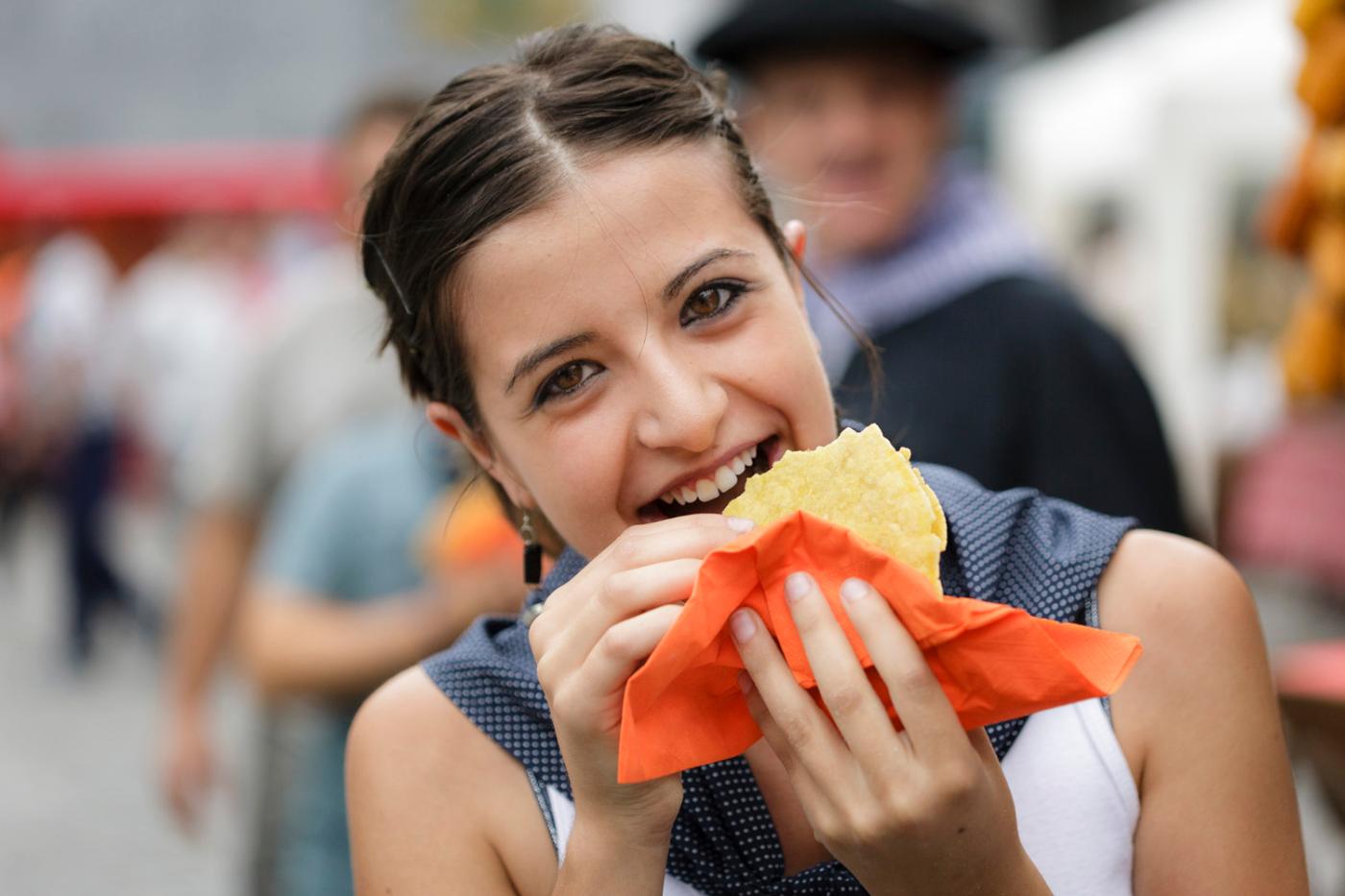 Gastronomy
In Navarre, you'll never hear your kids say I don't like that. Jot down these dishes that they're going to love: pintxos of txistorra and fritters, t-bone steaks —scaled down, of course— and migas del pastor (shepherd's breadcrumbs). And for dessert, you must try the cuajada and the canutillos de crema (cream horns)... mmmmmm
Everything you can do with your family
If you are a sporty family, you're going to have a blast: rafting, segway, horse riding, snowshoes...
Or maybe you prefer to get to grips with the local cuisine? Then, we'd point you in the direction of workshops on wine, cheese or honey.
If you're more interested in culture and monuments, delve into the museums and guided tours.
What about mysteries, treasure hunts and gymkhanas? Well, we've also got something up our sleeves for your family.
And for anyone who loves a good fiesta, they'll adore the street markets or circus and theatre festivals, a full schedule to keep boredom at bay.
But we're warning you...your kids are going to want to come and live in Navarre.
See all types of plans
When are you coming?
Discover what Navarre can offer in each season