Urban tourism in Navarre is your sure bet to take advantage of every second of time while you're away from your routine.
If you opt for Pamplona, you won't be disappointed by its first-class historical heritage, the old city centre replete with medieval churches, its overall ambiance and green spaces.
And even more so when you combine all of that with the splendour of its medieval walls, its gastronomy – with a special tip of the hat to its pintxos – and its marvellous cultural programming.
If you choose to venture out to one of its small cities, a most diverse cultural legacy will be at your fingertips that you can enhance with combinations of local cuisine, nature, or other more laid-back plans.
Because the Kingdom of Navarre has so many getaway options that you'll always want to come back for more.
Pamplona, the capital of the Kingdom of Navarre
And the perfect place to spend the weekend.
Because Pamplona has so much to offer:
"Fill your boots" gastronomy with an all-star line-up of pintxos.

Top-of-the-line historical heritage and heaps of green areas.

A non-stop cultural life in a restless city.

And the San Fermín festival, intangible cultural heritage recognised by UNESCO and known worldwide.
Oh, and this is just the beginning...
Para saber por dónde te mueves
Recorre Pamplona siguiendo el plano de la ciudad.
Tudela, the second most noteworthy
Right after the capital. A charming city born between the arid Bardenas Reales and intensely green orchards.
Teeming with history, the city was founded in the year 802 under Muslim rule. For four centuries, Muslims, Jews and Mozarabs live together, weaving together a rich cultural mosaic that is still reflected in its streets today.
The subsequent Christian conquest topped it off, turning the city into a true artistic gem.
Tudela is also part of the Network of Jewish Quarters in Spain—Caminos de Sefarad, and is never missing from Sephardic touristic tours.
There are many charming places for you to visit while out on a stroll, where you're likely to pause for contemplation of their history and culture.
Look, here are a few of them:
Cathedral of Santa María

It has been a national monument since 1884, fashioned in the Gothic style with three formidable portals, among which the spectacular Portal of the Last Judgment may be highlighted, which mixes the Romanesque and Gothic styles.

Don't miss its Romanesque cloister, which can be accessed from the Tudela Museum, or the Baroque chapel of Santa Ana, the city's patron saint.

Plaza de los Fueros

A mandatory stop, this is the heart of Tudela.

What was once a bullring now offers a central kiosk. The facades of its houses display the shields of the Ribera villages. It is presided over by the Casa del Reloj, the hub which oversees all of the city's events: the Holy Week, the Baile de la revoltosa (a traditional celebration), among others.

Palace of the Marquis of San Adrián

Nothing other than the finest Renaissance palace in Navarre. And it has a little of everything: a lightwell, spectacular eaves, murals and centuries of history in which Goya himself is featured, who portrayed the Marquis and whose work can be seen in the Museum of Navarre.

Another example to highlight is the Palace of the Marquis of Huarte, with its lavishly decorated facade and its double imperial staircase, considered the most beautiful in Navarre.

Church of la Magdalena

Also a national monument — that makes three already —, which also preserves one of the few Romanesque towers of the Kingdom of Navarre.

Ebro Bridge

Of medieval origin, it is an entrance to the city offering one of the best panoramic views of Tudela.

Monreal Tower

An ancient thirteenth-century defence tower offering breath-taking views.

Muñoz Sola Museum of Modern Art

Located in the old Casa-Palacio de os Veráiz, it houses the collection of French paintings possessed by the artist César Muñoz Sola.
¡Cuántos monumentos hay para ver en Tudela!
Ubica todos estos monumentos en el plano.
Events in Tudela
Here the big festivities are:
Holy Week with its celebration of the Volatín and the Bajada del Ángel.

The City of Tudela Ópera Prima Film Festival.

Patron saint celebrations, which also include bull running.

The Vegetable Celebration Week.
So you see, Tudela's cultural offering packs quite the punch.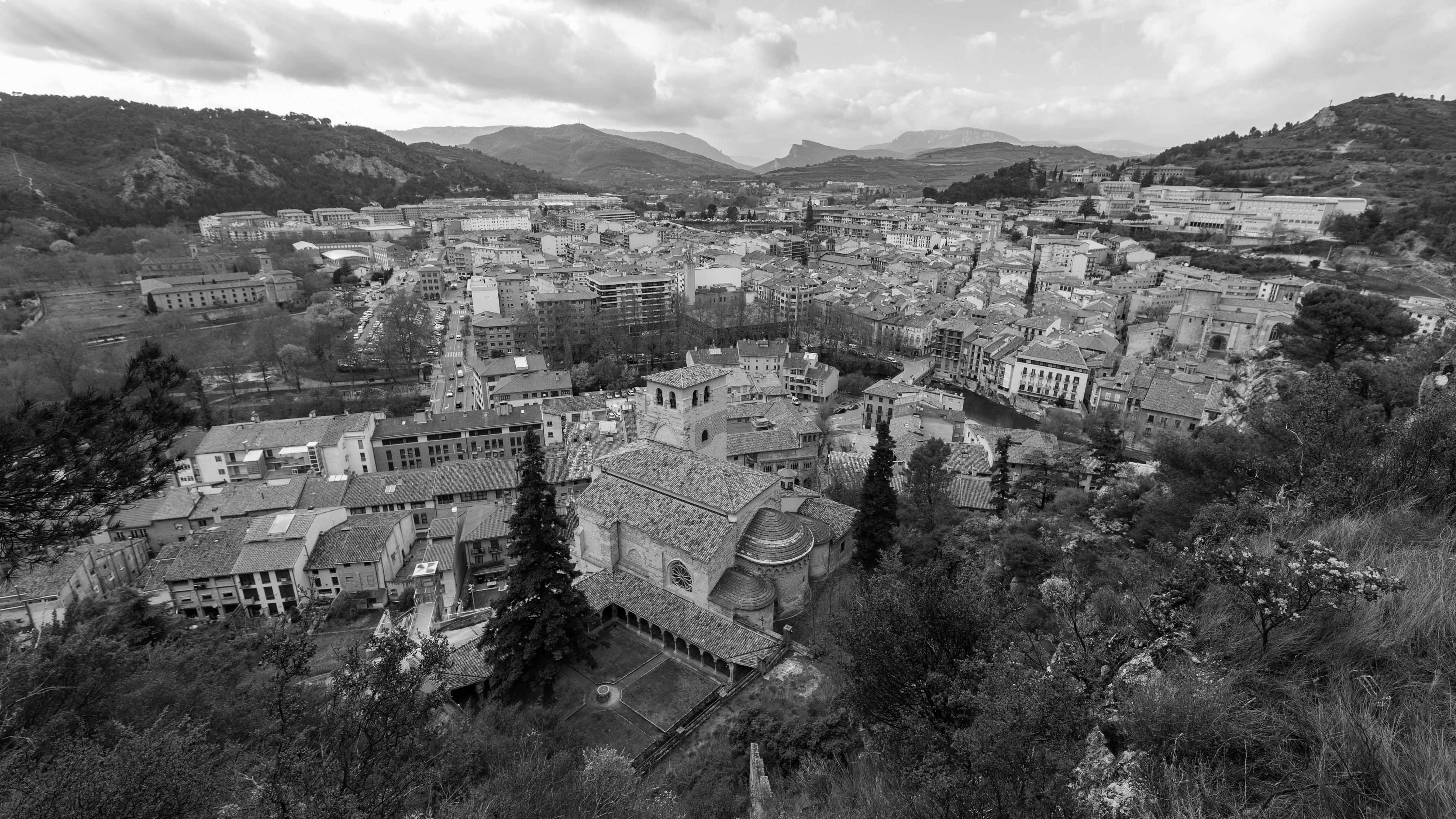 Estella-Lizarra
The final feature of this trio of Navarrese cities is a wonder of immense cultural value.
Known as the Toledo del norte (Toledo of the North), and despite its small size, it's a good option if you add other essentials from its surroundings into the mix: the Monasteries of Iratxe and Iranzu, and the landscapes of the Sierra de Urbasa, which include the stunning Source of the River Urederra.
This city, with its heavily St. James inspired ambiance, will invite you steal away for the weekend, to let yourself fall under the spell of its streets filled with palaces, bridges and churches.
Take note of these three Romanesque jewels: the Palace of the Kings of Navarre, the cloister of San Pedro de la Rúa, and the portal of San Miguel.
Iglesia de San Pedro de la Rúa

Encaramada en un alto desde el que domina la ciudad, este templo nos recibe con un bello pórtico del siglo XIII, de arcos lobulados de influencia árabe y rica ornamentación, una imponente torre, y un interior que alberga entre otros, la capilla de San Andrés, patrón de la ciudad, y un claustro del siglo XII, que está considerado uno de los conjuntos de mayor riqueza escultórica del románico navarro.

Y no pases por alto un capricho excepcional de una de las crujías de este claustro, que se repite en El Burgo de Osma y en Santo Domingo de Silos: las cuatro columnas torsas entrelazadas en las que se apoya la arquería central.

Palacio de los Reyes de Navarra

En la coqueta plaza de San Martín se alza el Palacio de los Reyes de Navarra, único ejemplo del románico civil de Navarra que fue declarado Monumento Nacional en 1931.

Es del siglo XII y tiene una bella y armoniosa fachada, articulada en tres cuerpos; en el inferior presenta una galería de robustos arcos de medio punto, y en el superior, grandes ventanales, divididos por cuatro arquillos apoyados en finas columnas con capitel. Observarás además dos torreones, y en las columnas de los extremos dos capiteles historiados, uno de los cuales representa la lucha de Roldán y el gigante Ferragut. Una joyita que bien merece un alto en el paseo.

Tras la restauración realizada en 1975, el palacio se convirtió en sede del Museo del pintor Gustavo de Maeztu.

Iglesia de San Miguel

Se ubica en la margen izquierda del río Ega, en el barrio de San Miguel, lugar en el que convivieron francos y navarros, y que surgió en Estella-Lizarra en la segunda mitad del siglo XII.

Destaca su portada norte, con uno de los conjuntos escultóricos más representativos del románico tardío, en cuyo tímpano aparece el Cristo en Majestad, rodeado por los símbolos de los cuatro evangelistas, la Virgen y San Juan como intercesores en el momento del Juicio.

El aspecto exterior del edificio es grandioso; ofrece volúmenes contrapuestos, como los de la torre barroca situada en la cabecera y la mole pétrea de la torre medieval ubicada a los pies de la nave.

Y por si no hay iglesia que se te escape

No dejes de ver la portada del siglo XIV de la iglesia del Santo Secpulcro, las puertas de la iglesia de San Juan Bautista, la iglesia de Santa María Jus del Castillo, donde se ubicaba la antigua sinagoga, y la Basílica del Nuestra Señora del Puy, patrona de la ciudad.

Y es que Estella-Lizarra tiene arte para dar y tomar...

También abundan los palacios

Callejea tranquilamente y descubrirás bellos palacetes y casonas, como el palacio de los Eguía (XVI), sede de la actual biblioteca, la mansión señorial de los Ruiz de Alda (XVII), la casa Fray Diego, casa de cultura de la ciudad, el palacio del Gobernador (XVII), actual Museo del Carlismo, y una serie de antiguos arcos góticos que daban entrada a tiendas y hospederías jacobeas.

No te pierdas la calle Mayor, con sus edificios blasonados y un palacio barroco del siglo XVIII en el número 41. Ni tampoco el edificio de la Estación (1927) que fue estación del ferrocarril de vía estrecha, para pasar a ser actualmente la estación de autobuses.

Las fiestas, que no falten

El 25 de mayo, Estella-Lizarra festeja a su querida Virgen del Puy, patrona de la ciudad. Si visitas la ciudad a finales de julio, la encontrarás engalanada como en la Edad Media para celebrar la Semana Medieval, y el viernes anterior al primer domingo de agosto comienzan 7 días de animadas fiestas patronales.

La segunda quincena de septiembre podrás acudir a la Semana de Música Antigua y en torno al 30 de noviembre y coincidiendo con fin de semana, se celebra la feria de ganado y artesanía de San Andrés.

¿Y de gastronomía, que se ofrece?

Te cantamos el menú: verduras de temporada, pochas, garbanzos, trufa, ajoarriero, cordero al chilindrón y gorrín asado. Entre los postres típicos a elegir alpargatas (pastel de hojaldre), rocas del Puy (de chocolate y avellanas), tarta de Santiago, sanchicos (bombones rellenos) y para terminar un rico queso con DO Idiazabal .

Y no olvides que estamos en tierra de buenos caldos, así que si lo deseas podrás visitar alguna de las bodegas cercanas.
¿Quieres ver todo lo que te ofrece Estella-Lizarra?
Muévete por la ciudad consultando el plano.
Fiestas y actividades de Estella-Lizarra
Una animadas fiestas patronales, el interesante Festival de Música Antigua, el mercado medieval, y para despedir el años las fiestas de artesanía y ganado de San Andrés, son alguno de los eventos que vive la ciudad. Y además, muchas otras actividades para que disfrutes.
Psst! Psst!... here are more options:
Other ideas for your getaway in Navarre
Que sepas que, aunque aquí te hemos hablado de escapadas urbanas, Navarra te ofrece muchas opciones para una escapada corta. Te dejamos alguna por aquí.
Gastronomy

Gastronomy

Treat your palate to one of the most authentic dishes in Navarrese cuisine. All of this well washed down, of course, with a local wine.

Culture and roots

Culture and roots

Come on a trip inside the Kingdom of Navarre, where you'll find a truly exquisite cultural legacy to scratch your itch for knowledge.

Wellness

Wellness

A walk to breathe in fresh air, a spa session, or a good massage are the best allies to recharge your batteries in Navarre.