The pintxos route in Pamplona
So, let's get started! And we're going to begin with one of the most deeply rooted traditions in the capital of the old Kingdom: going out for pintxos. You'll soon discover that Pamplona emanates food culture everywhere you turn, and you can find a good example on the counters of its bars. And when is a good time? Well, here we go out for pintxos before lunch or in the early evening, before dinner.
Whether you go for the revered traditional pintxos of txistorra sausage and deep-fried prawn, pepper and egg or would prefer to try miniature haute cuisine with a creative touch, your mouth will start to water with just a glance at the array of food on offer.
You'll always want to try more!
Let's go out for pintxos!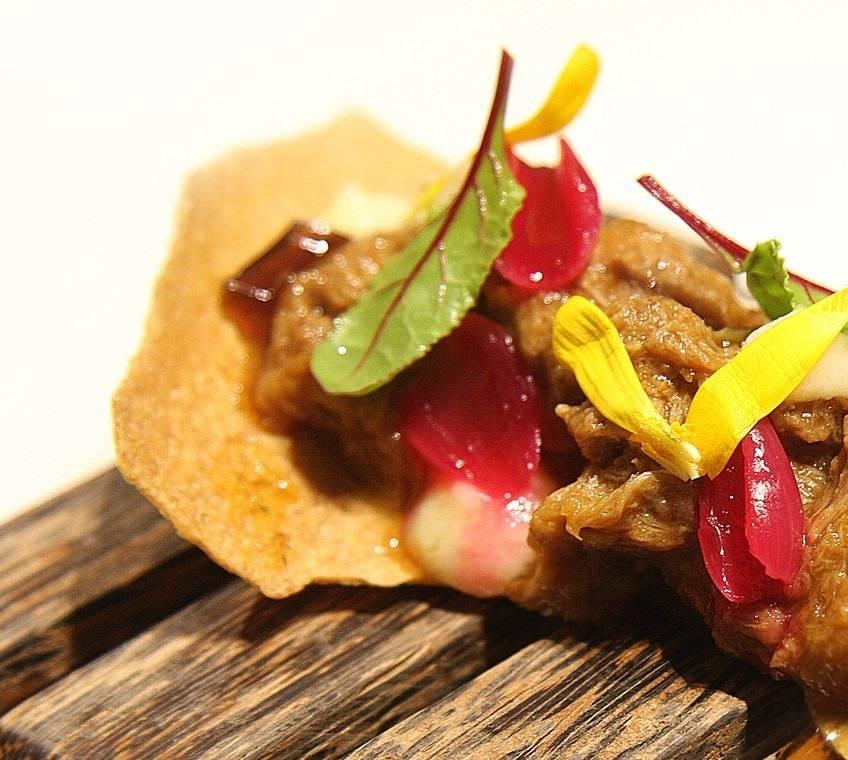 Gastronomic experiences
Because in Navarre, gastronomy isn't just celebrated around the table.
We invite you to take part in some of the fun, educational and even surprising food tourism experiences available, an assortment of which you can find here.
Click on the red button to find out more.
See all the gastronomic experiences
Let's go mushroom hunting!

Navarre is a mycological paradise where you can find different kinds of boletes, cloud funnels, the highly regarded St. George's mushroom and even Caesar's mushroom, which is among the most coveted varieties around.

And with such a range right on the doorstep, it's not surprising that numerous events and activities are held to celebrate them, such as learning to find them.

All you have to do is visit the Ultzama mycological park or hire an expert guide and venture out into the beech and oak woods to forage for saffron milk caps, grey knights and bronze boletes.

And from there, straight to the kitchen.

Learn how to make talos

A talo is a flatbread made from toasted cornmeal, salt and water, cooked on a griddle. A recipe of humble origins and a simple bite to eat, but so moreish!

Especially if you fill them with txistorra sausage, bacon, cheese or chocolate, and wash them down with a nice glass of Navarra wine. Now, doesn't that sound good?

If it does, you should know that, in addition to trying them, you can actually learn how to make them from scratch at the Amaiur/Maya mill.

The best thing since sliced bread!

Visit a cheesemaker's

If you're a fan of cheese, Navarre is definitely the place for you.

Because cheese from Navarre boasts not just one but two different designations of origin. D.O. Idiazabal and D.O. Roncal.

And as with wine, so with cheese: it's not just all cheese tasting.

Deepen your knowledge and visit a cheesemaker's to see how this dairy delight is made close up.

And, if you're up for it, you can make a cheese yourself or even accompany a shepherd to the mountainsides as he/she reveals the secrets of the trade to you.

Live a truffle experience

The world of truffles awaits you in the winter.

A fungus with that peculiar smell and taste which the finest chefs just adore thrives beneath the soil of Navarre in the coldest months of the year. And what better way to appreciate it than to visit the Metauten Truffle Museum, very close to Estella-Lizarra?

There you can discover all the secrets of this exquisite fungus, try products made with it and take part in a tasting of local wines. And you can explore truffle grounds with expert truffle hunters, see a dog training display or collect truffles at a truffle farm, too.

Let's see who's first to spot a truffle fly!

Sweeten up your life at a honey producer's

And discover how this delicious local product is made from start to finish.

The tour begins with a visit to the apiary — with suitable protective garb —, where you'll learn how honey is extracted and discover the importance of bees to our environment. You'll also see how honey is jarred and how other bee products, like candles, soap and cosmetics, are made. And you can even take them back home with you if you like.

And where can you discover this strange world? You have two options; the Ezkurdi Apiculture Museum in Eltso, in the Ultzama Valley, or the beekeeping resource room at the Orísoain Eco-museum.

A place well worth its salt

Two of the few saltwater spring salterns still operating in the world, Gironés and Nuin Eraso, are in Salinas de Oro, whose very name means "golden salterns".

Tours are available to show you where the salt we use to flavour our food comes from and reveal the secrets of how it is obtained.

As you go, you'll also get some good advice on how to use salt for therapeutic purposes, learn the role it plays in our health and discover all the ways in which this humble mineral helps us.

Afterwards, if you like, you can even take part in a salt tasting. Who would have thought that different kinds of salt could taste so different?
And now it's time to eat!
After hearing all this, aren't you just dying to sit down and eat?
Now you know that Navarrese cuisine is fresh, healthy, traditional and avant-garde. And diverse, too, because there's something for everyone.
On the one hand, you have those traditional restaurants that appear in all the prestigious Spanish and international guides, including, of course, the odd Michelin-star eatery.
And then you have newer talent, gradually reaping well deserved success thanks to hours and hours of hard work and enthusiasm, all with a good dose of innovation; the traditional cider and grill houses that specialise in serving that irresistible meat and fish cooked till it is "just right"; and one of the latest arrivals on the scene, the Slow Food movement, with its emphasis on chiefly organic, local products and respect for the environment.
I want to eat out in Navarre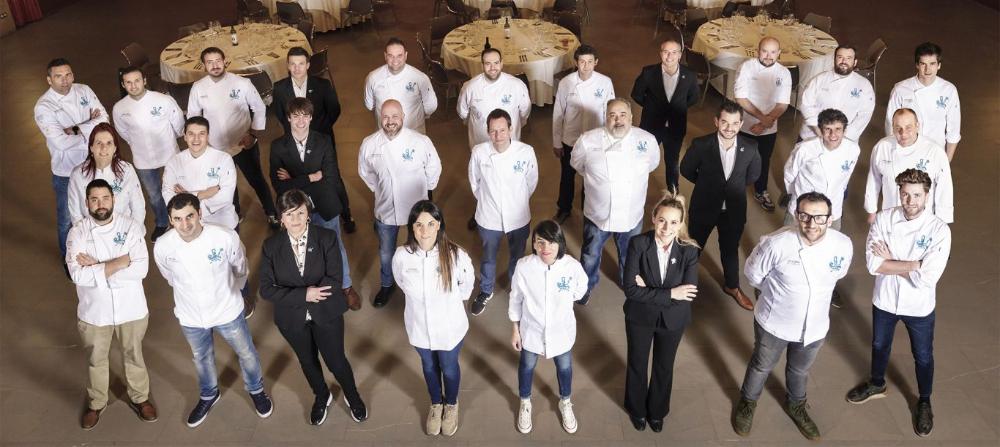 Restaurants for foodies

Let's start with the more established restaurants in the region. The ones run by chefs whose work has been deservedly acknowledged. Their main objectives? Respect for Navarre's gastronomic identity, innovation and only using the finest ingredients available.

Check out the Kingdom's restaurants.

And here's another association. This one is more recent and brings together Navarrese vegetable and local product enthusiasts. Its members include not only renowned chefs and sommeliers but also younger talent with plenty of upside and whose success in numerous gastronomic competitions makes discovering them well worth everyone's while.

Passion, loving care and a large dose of creativity at very reasonable prices. Who could resist?

See the restaurants that belong to Zaldicook

 

Grill and cider houses

You can't visit Navarre without experiencing another of our most deep-rooted traditions. eating out at a grill house (asador) and a cider house (sidrería).

That's right, at both. Because each has its own charm, as you will see:

At the cider houses, particularly from January to May, the menu on offer is very specific and there is one star dish: chorizo cooked in cider. But there are more things, too: cod omelette, cod loins with green peppers, the revered rib-eye steak and, for dessert, cheese with walnuts and quince jelly. Simply delicious! All washed down with the fresh cider of the season that you serve yourself straight from the barrels lining the dining room.

And another really popular food choice in Navarre is eating out at a grill house, where you don't only have delicious charcoal-grilled meats, such as rib-eye steak, sirloin, rack of lamb or suckling pig, paired with a good D.O. Navarra wine, but can also eat wild-caught fish, brought straight from one of the nearby fish markets. These are charcoal-grilled, too. Try some delicious hake, monkfish, red seabream or turbot.

Discover Navarre's closed-cycle cider houses

Locavore restaurants

Navarre's locavore restaurants (which are called "km 0" here) prepare all their dishes with local, high quality, mainly organic ingredients produced within a radius of less than 100 km.

And Navarre was a global pioneer when it opened the first ever Slow Food School at the Ultzama School Farm thanks to the enthusiasm of its founders, Beatriz and Óscar. A true institution since the push for good, clean, fair food began.

Traditional food, to savour at your leisure...

I want to eat out at a locavore restaurant
Food, the soul of every celebration.
It doesn't matter when you plan to come, because the hard thing is not to find some kind of food-based celebration somewhere in Navarre. Here are some of the most popular ones, but there are many more.