Are you visiting Navarre and want your little ones to have the time of their lives? Or maybe you and your crew would like to disconnect from the nine-to-five? Are you out with your partner or flying solo, looking to combine activity and relaxation?
Well, there's a place in Navarre–seven actually–where you and your company are sure to have a grand old time, whether you're family, colleagues or lovebirds. You only need to have one thing in common: the thirst for adventure.
Adventure Parks in Navarre
With services for all your needs

With services for all your needs

With no shortage of other fun stuff close by

With no shortage of other fun stuff close by

Marvellously intertwined with nature

Marvellously intertwined with nature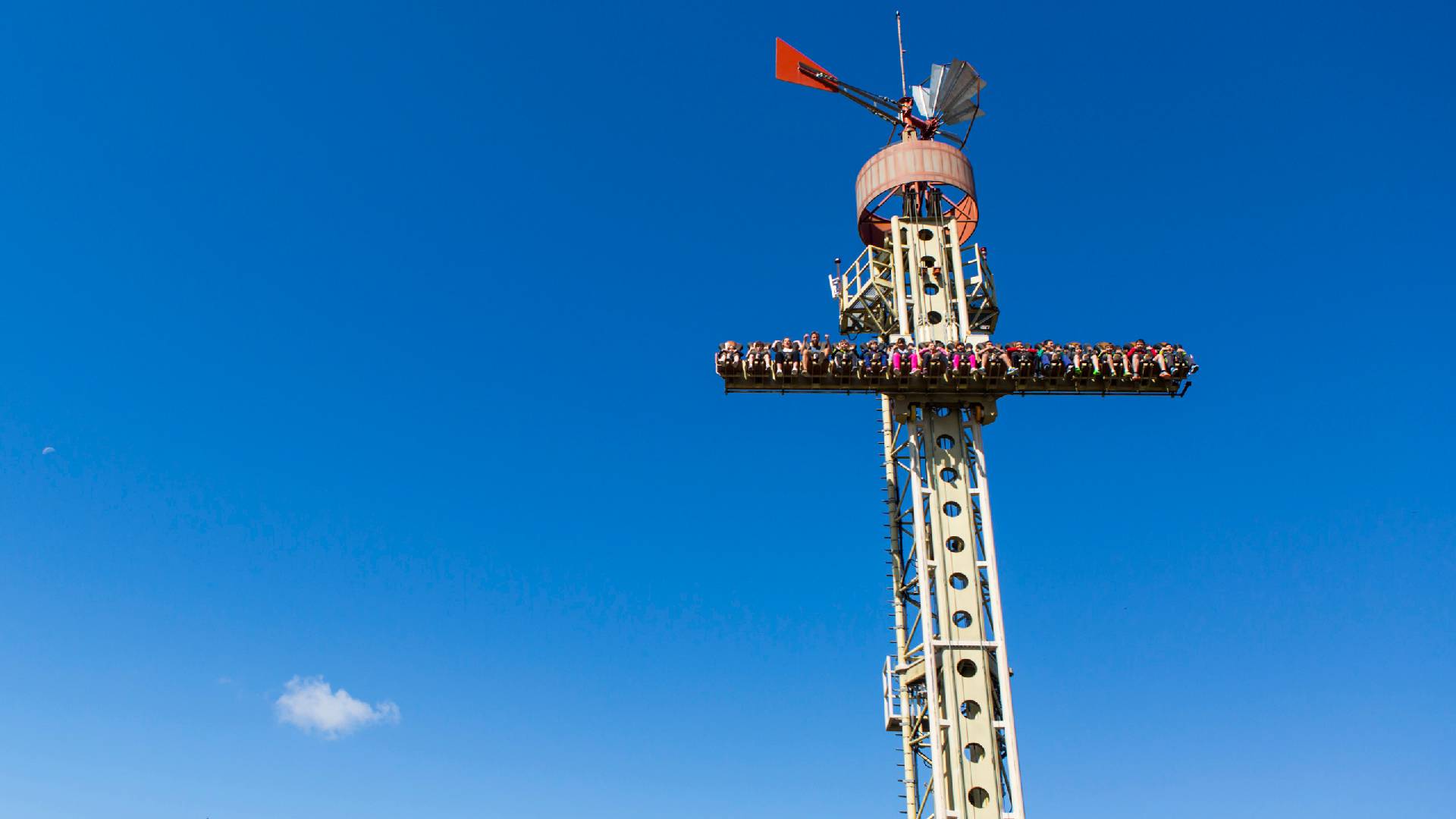 Sendaviva
Let's start with the Sendaviva Park in the south of Navarre, half an hour from Tudela, next to the Bardenas Reales badlands. Sendaviva is a large leisure park offering animals, shows, attractions and other activities designed for the enjoyment of little ones… and not so little ones.
So far so good? Keep reading, we'll explain everything.
Attractions in Sendaviva

The array of attractions is quite simply fantastic. And they're perfect for all types, from the easy-going to the most audacious.

Free fall, boats, ziplines, bobsleighing, Valhalla, flying chairs, a haunted house, a water maze... All this and much more equally stimulating and – above all – fun stuff to do.

It's go time!

Animals in Sendaviva

You can find many different groups of animals by travelling through the park's several paths.

For example, you have the Livestock Path – with Burguete and Navarrese horses –, the Forest Trail – with bears, wolves and lynxes – or the Exotic Path – with kangaroos, tigers and zebras – in all totalling 8 different paths.

If you like animals, you'll have a hard time choosing where to start.

Shows at Sendaviva

And the fun goes on. There are shows for all ages.

Puppet theatres, birds of prey in flight and even a circus that will put more than just one smile on everyone's face in the family.

Services in Sendaviva

A word on a few practical aspects of a visit to the park.

The facilities are quite thorough, so you won't have to worry about a thing.

7 restaurants with all kinds of meals, a large car park (also including services for motorhomes), accessibility for wheelchairs, pushchairs and luggage storage, and a shop to pick up your favourite souvenirs.

Oh! And quite the curious hostel – recreated in a semblance of a forest – in case you decide to spend the night to get to know the park in detail.
Made your mind up yet? Well, all that's left now is to work out the fine details.
Alrededores de Sendaviva
Y si te apetece completar tu escapada a Sendaviva conociendo el entorno, ahí van un par de recomendaciones que te pillan a menos de media hora.
La primera es, evidentemente, el Parque Natural de las Bardenas Reales. Posiblemente el paraje más insólito de toda Navarra —por eso de ser un desierto cercano a los Pirineos— y que merece mucho la pena visitar
La segunda es que te des un paseo por la capital de la Ribera navarra, Tudela, donde te esperan un patrimonio cultural de aúpa en el casco antiguo —imprescindible la Catedral de Santa María— y una gastronomía de alto nivel.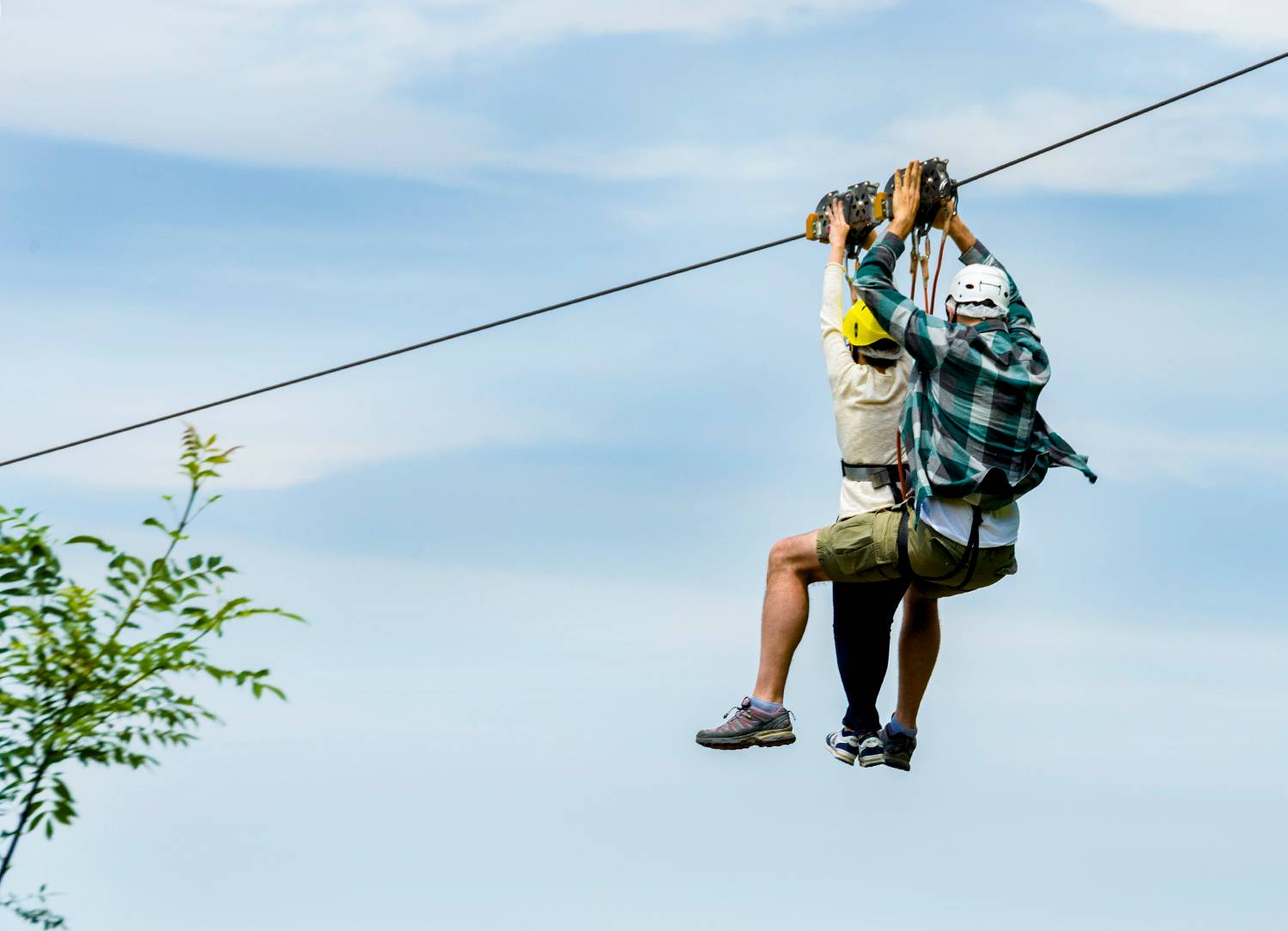 Irrisarri Land
And a little further north, near the Cantabrian Sea, we have our next destination. In lgantzi, part of the region of Cinco Villas, you'll find an authentic rural resort where you'll find nothing's missing. Check out how sweet it is:
Activities at Irrisarri Land

A place where fun never ends.

The park has lots of activities for all types, from thematic walks – designed to stimulate the five senses, others on mythology, on adventure – to tree-top walks, a Tibetan bridge, ziplines, a pendulum, laser tag, disc golf, and even a pump track circuit.

Plus a few things we've left out to arouse your curiosity. Whatever could they be?

Facilities at Irrisarri Land

As we said, this is a resort, which means that its facilities offer everything you may need.

Three types of accommodation: a most flashy hostel that is perfect for groups; a three-star hotel, located in an old palace, mixing tradition and modernity like nothing else; and luxurious cabins that are the embodiment of a romantic getaway.

Also, two restaurants – one casual, one signature – hold the reward you'll deserve after a hard day of adventuring.

And wait, if by chance you want to organize an event in Navarre – business or family – they have a space, the Yrisarri Viewpoint, specially designed for it.
Can you hear Irrisarri's call?
Well, plan your next visit here.
Alrededores de Irrisarri Land
Si a pesar de estas instalaciones de quitar el hipo te entran las ganas de darte una vuelta por las Cinco Villas, nada como visitar sus pueblecitos de postal.
Por ejemplo la elegante Bera, con casas solariegas cuidadas con tanto mimo que parecen decorados de película. O su vecina Lesaka, de larga tradición industrial y con una rica arquitectura que así lo atestigua. Si te animas a conocerla, no te pierdas la Iglesia de San Martín Tours, y su delicioso centro, al que le da el toque el río que lo atraviesa custodiado por pretiles. Verás qué bonito.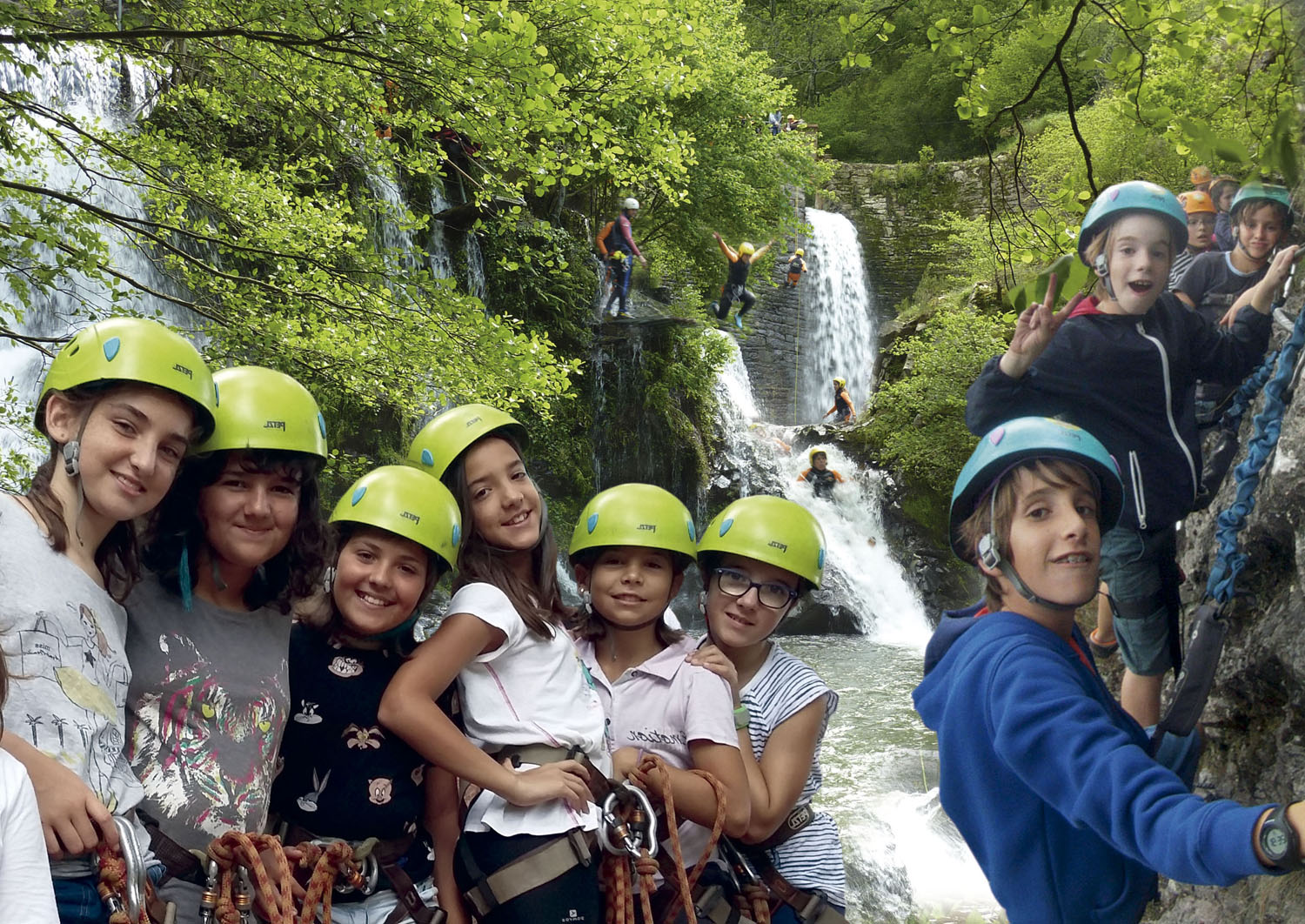 Navarra Aventura
We're headed due north to the Pyrenean Baztan Valley to visit the two parks managed by Navarra Aventura. We'll say it up front: they offer such a wide variety of outdoor activities that you're going to have a hard time deciding what to do first. Take a look:
Baztan Abentura Park

This park, which is near Elizondo, will make your pulse rise and your legs shake with its offerings.

Two zipline circuits, one for adults and one for little ones, a via ferrata with impressive views, a giant pendulum with a 142-meter drop –*gulp*–, several trails and a natural cannon- waterpark circuit between slides and pools.

Take it from us, your heart is going to start to rumba.

Bertiz Abentura Park

In Narbarte, very close to the Señorío de Bertiz Natural Park, you have this slightly more laid-back second proposal.

Here you can choose between two activities that, while quite different, are both tremendously exciting.

One option is arborism, otherwise known as tree-top circuits, that will have you navigating through via a series of ropes, nets and zip lines.

The other is paintball. Yes, shooting paintballs willy-nilly at another team in the middle of the forest. In the park they will provide you with the necessary equipment and let you take a shower when you finish.

Two awesome plans to pursue either with your crew or with the family.
What else do you need? Well, little, really. Comfortable clothes, good company and an adventurous spirit. To get to know the two parks in detail you can visit their website, where you can also see suggestions for accommodations.
Alrededores de los parques de Bertiz y Baztan
Vamos con un par de ideas de ocio que te pillan cerca de los dos parques.
El primero, Elizondo, que te queda a tiro de piedra y es uno de los pueblos más encantadores del norte de Navarra. Y si te has leído la Trilogía del Baztan de Dolores Redondo, con más motivo todavía.
El segundo, el Parque Natural de Bertiz, un bosque esplendoroso con varias rutas de senderismo y otros secretos que no te puedes perder.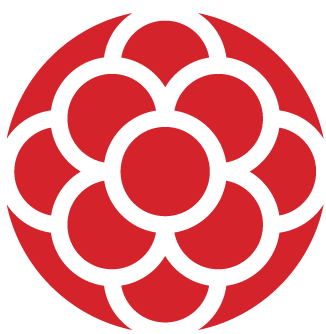 Urbasa Abentura Park
Turno de Tierra Estella. Para el Valle de Améscoa que nos vamos, concretamente a Larraona, a los pies de la Sierra de Urbasa. Este es un parque más pequeño que los anteriores pero con actividades de sobra para pasar un buen rato. Y sobra decir que rodeado de la típica naturaleza marca Navarra.
Activities in Urbasa Abentura Park

El corazón de este parque lo representan sus dos grandes rocas que, con ayuda de unos postes, forman una gran tela de araña en la que cada hilo es una prueba diferente.

Plataformas de madera, puentes tibetanos, pasos de escalada, pequeñas vías ferratas y también actividades de orientación.

Vamos, todo lo imprescindible para mover el esqueleto y cargarse de energía, que también hace falta.

¡Planazo de día a la vista!

Activities in Urbasa Abentura Park
Alrededores de Urbasa Abentura Park
Aquí lo tenemos fácil. Estando a menos de 20 minutos del Nacedero del Urederra no nos queda otra que decirte: ¡TIENES QUE IR!
Y lo ponemos en mayúsculas porque no se puede enfatizar lo suficiente lo bonito que es este lugar. Por algo su nombre significa "aguas hermosas" en euskera.
Y no menos bonita es la Sierra de Urbasa, donde además de la del Nacedero encontrarás otras rutas de senderismo y miradores de impresión.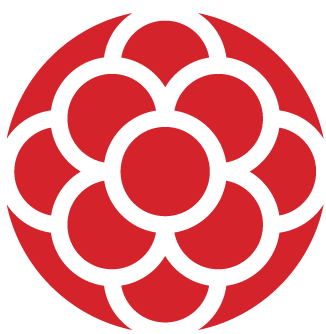 Artamendia Adventure Park
Let's talk about an adventure park in the centre of Navarre. Over in the Sangüesa region, in the municipality of Aibar, another tiny park will get the whole family having a ball jumping like monkeys through the treetops.
Artamendia Adventure Park

Trees are the keyword here. Off we go!

Two circuits of different levels are available to get you feeling like the king or queen of the jungle at the tallest heights of the forest.

Bridges, platforms, stairs and ziplines that will no doubt get you screaming in that way you wonder if you haven't just shaved a year off your life expectancy.

Activities in Artamendia Adventure Park
Alrededores del Parque Aventura Artamendia
¿Quieres aprovechar tu visita al parque para conocer la comarca?
Pues perfecto. Lo primero es pasarse por la capital, Sangüesa. Cuenta con un patrimonio arquitectónico de lo más interesante —la iglesia de Santa María y su portada románica son su máximo exponente— y con una gastronomía bien rica, ¡sus pochas son un vicio!.
Tampoco deberías irte de la zona sin conocer la impresionante Foz de Lumbier. Uno de los paisajes más agrestes de Navarra, en el que puedes pasear, montar en bici y observar a los buitres sobrevolar tu cabeza. Un paisaje que es difícil que olvides, ya verás.
This is adventure and not that Indiana Jones stuff
If you're itching to break out of the routine and to prove that you're no couch potato, then take hold of your destiny and saddle up. Or were you not aware that the most important part of an adventure is simply starting it? It's true, Dr. Jones told us so.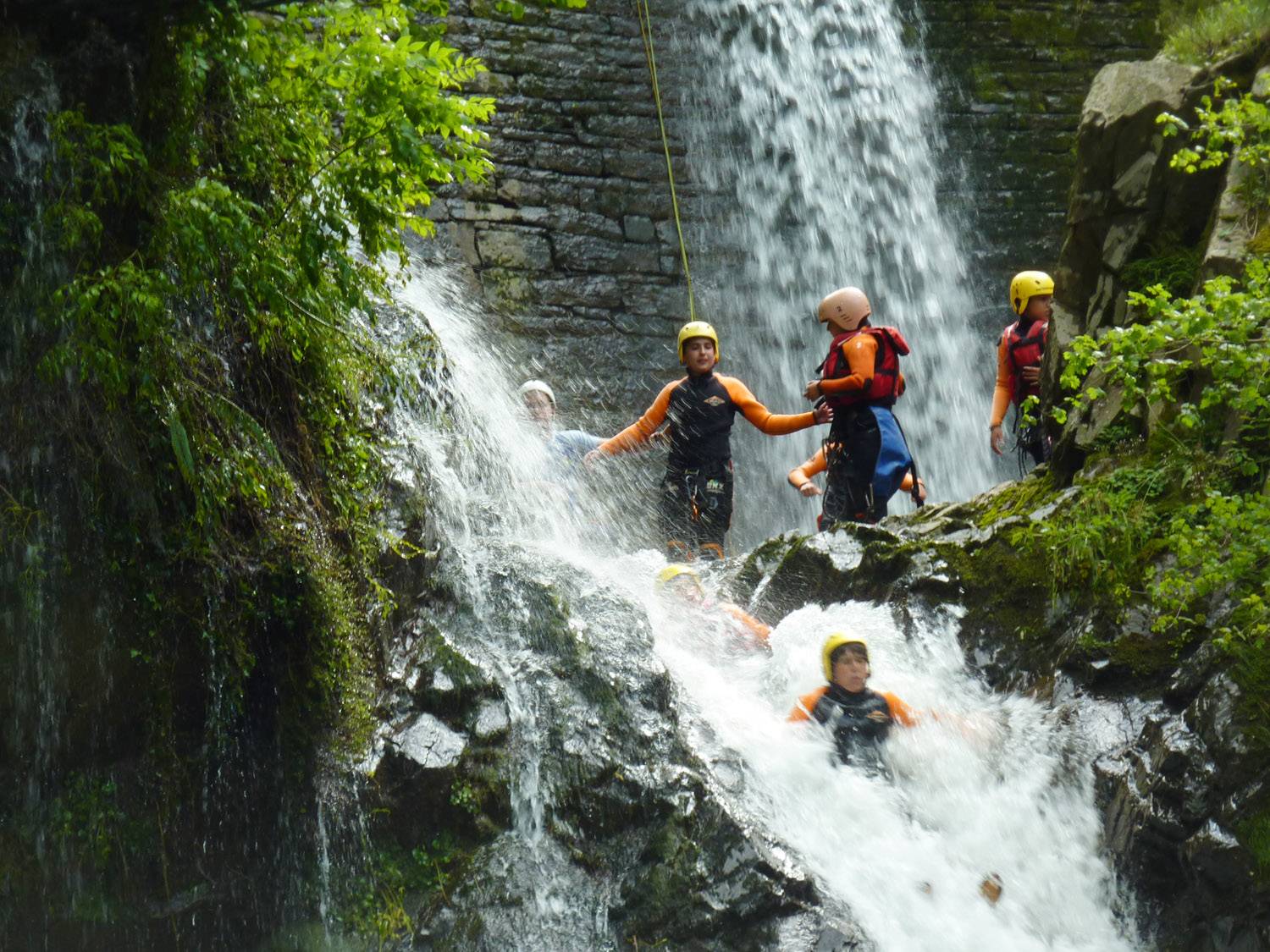 And after this jolt of energy, how about something more laid back?
Of course. Here are a few plans to enjoy at a slower pace.
Collegiate Church of Orreaga/Roncesvalles

Collegiate Church of Orreaga/Roncesvalles

The most beautiful entrance to the Way of St James opens its doors to you too

Lose yourself–and find yourself again–in Orreaga/Roncesvalles

Zugarramurdi and other caves

Zugarramurdi and other caves

Delve into a universe of ancient nature and legends of witchcraft.

Getting to know the magical side of Navarre

Olite

Olite

A castle – and its villa – that are an authentic medieval fantasy.

Take me to the past of knights and princesses