Are you visiting Navarre and want your little ones to have the time of their lives? Or maybe you and your crew would like to disconnect from the nine-to-five? Are you out with your partner or flying solo, looking to combine activity and relaxation?
Well, there's a place in Navarre–seven actually–where you and your company are sure to have a grand old time, whether you're family, colleagues or lovebirds. You only need to have one thing in common: the thirst for adventure.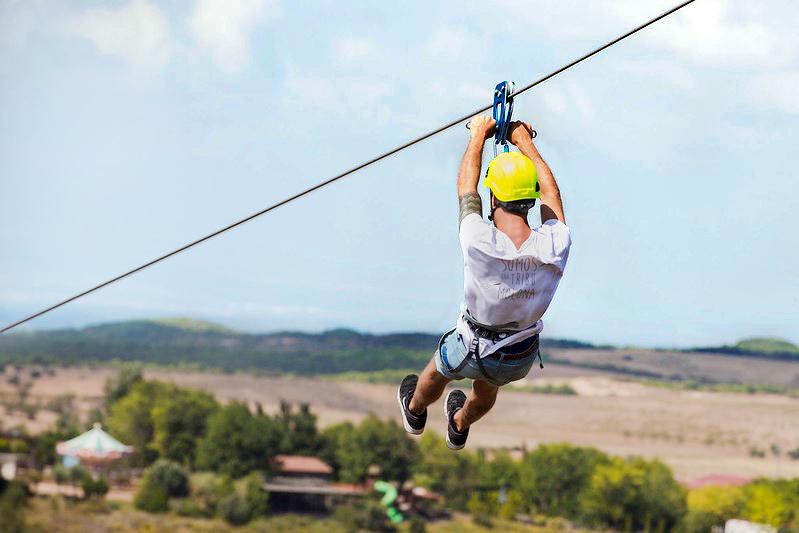 SENDAVIVA adventure and nature park
Just like every year, the Sendaviva adventure and nature park reopens its doors in March.
This family leisure park, which offers a unique combination of rides and attractions, nature and shows, is set in Arguedas, alongside the semi-desert landscape of the Nature Park and Biosphere Reserve of Las Bardenas Reales in Navarre.
At Sendaviva, you will get the chance to discover more than 1000 animals from all over the planet, plus some thirty rides and attractions, many of which are water-based (ideal to beat the summer heat) as well as shows and activities directed at ensuring that the whole family enjoys an awesome day out. What's more, in 2023, to celebrate its 20th anniversary, Sendaviva is set to surprise you with lots of new features and activities.
A great entertainment option set in the heart of nature!
Attractions in Sendaviva

The array of attractions is quite simply fantastic. And they're perfect for all types, from the easy-going to the most audacious.

Boats, ziplines, bobsleighing, flying chairs, a haunted house, a water maze... All this and much more equally stimulating and – above all – fun stuff to do.

It's go time!

Animals in Sendaviva

You can find many different groups of animals by travelling through the park's several paths.

For example, you have the Livestock Path – with Burguete and Navarrese horses – or the Exotic Path – with kangaroos, tigers and zebras – in all totalling 8 different paths.

If you like animals, you'll have a hard time choosing where to start.

Shows at Sendaviva

And the fun goes on. There are shows for all ages.

Welcome Show, the Shaman´s Secret, puppet theatres and even a circus that will put more than just one smile on everyone's face in the family.

Services in Sendaviva

The facilities are quite thorough, so you won't have to worry about a thing: 7 restaurants with all kinds of meals, a large car park (also including services for motorhomes), accessibility for wheelchairs, pushchairs and luggage storage, and a shop to pick up your favourite souvenirs.

Oh! And quite the curious accommodation – recreated in a semblance of a forest – in case you decide to spend the night to get to know the park in detail.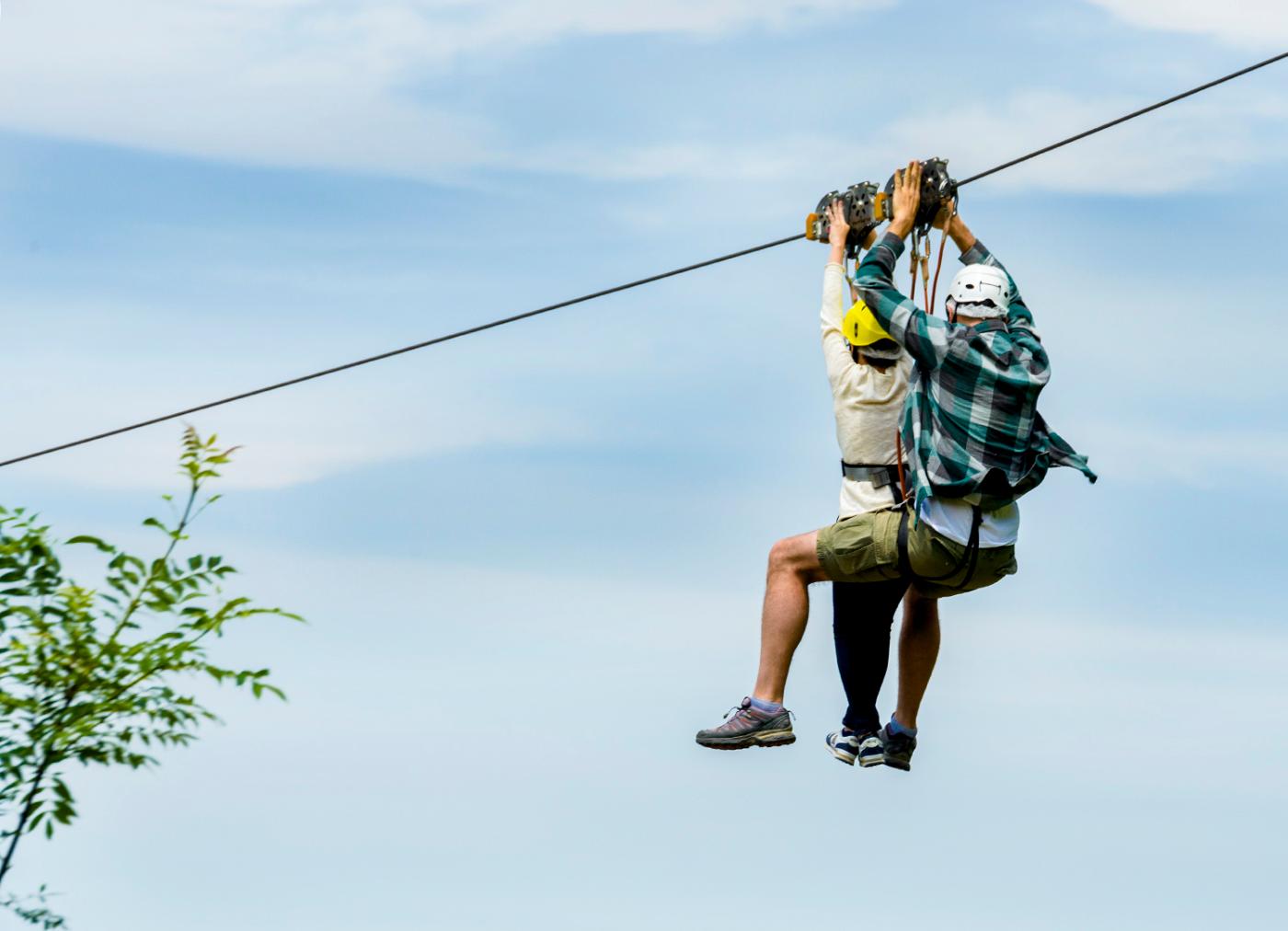 Irrisarri Land
And a little further north, near the Cantabrian Sea, we have our next destination. In lgantzi, part of the region of Cinco Villas, you'll find an authentic rural resort where you'll find nothing's missing. Check out how sweet it is:
Activities at Irrisarri Land

A place where fun never ends.

The park has lots of activities for all types, from thematic walks – designed to stimulate the five senses, others on mythology, on adventure – to tree-top walks, a Tibetan bridge, ziplines, a pendulum, laser tag, disc golf, and even a pump track circuit.

Plus a few things we've left out to arouse your curiosity. Whatever could they be?

Facilities at Irrisarri Land

As we said, this is a resort, which means that its facilities offer everything you may need.

Three types of accommodation: a most flashy hostel that is perfect for groups; a three-star hotel, located in an old palace, mixing tradition and modernity like nothing else; and luxurious cabins that are the embodiment of a romantic getaway.

Also, two restaurants – one casual, one signature – hold the reward you'll deserve after a hard day of adventuring.

And wait, if by chance you want to organize an event in Navarre – business or family – they have a space, the Yrisarri Viewpoint, specially designed for it.
Can you hear Irrisarri's call?
Well, plan your next visit here.
Places close to Irrisarri Land
After enjoying these breathtaking facilities, you could always take the opportunity to have a look round the Cinco Villas district, with its picture postcard villages.
Such as the elegant town of Bera, with its traditional houses that are so well cared-for that they appear to be the backdrop to a film. Or neighbouring Lesaka, with its long-standing industrial history and rich architecture that bears witness to this. If you're up for it, don't miss the Church of San Martín Tours, and its beautiful town centre crossed by a parapet-bordered river, giving it a special touch. You'll be amazed by its beauty.
What else do you need? Well, little, really. Comfortable clothes, good company and an adventurous spirit. To get to know the two parks in detail you can visit their website, where you can also see suggestions for accommodations.
Places close to the Bertiz and Baztan parks
Here are a few ideas for visiting attractions close to these two parks.
The first, Elizondo, is just a stone's throw away and is one of the most charming villages in northern Navarre. And if you've read The Baztan Trilogy by Dolores Redondo, then there's even more reason to visit it.
The second, the Bertiz Natural Park, is a magnificent woodland with a number of walks and other secrets that you simply cannot miss.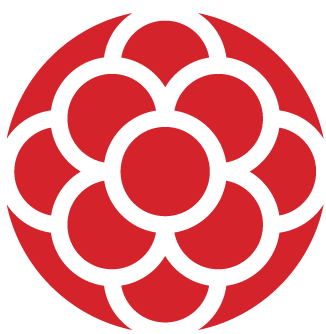 Artamendia Adventure Park
Let's talk about an adventure park in the centre of Navarre. Over in the Sangüesa region, in the municipality of Aibar, another tiny park will get the whole family having a ball jumping like monkeys through the treetops.
Artamendia Adventure Park

Trees are the keyword here. Off we go!

Two circuits of different levels are available to get you feeling like the king or queen of the jungle at the tallest heights of the forest.

Bridges, platforms, stairs and ziplines that will no doubt get you screaming in that way you wonder if you haven't just shaved a year off your life expectancy.

Activities in Artamendia Adventure Park
Places close to the Artamendia Adventure Park
Do you want to make the most of your visit to the park to explore the area?
Well, that's great! The first stop is Sangüesa, the main town. Its architectural heritage is of particular interest - the church of Santa María and its Romanesque portal is a prime example - while its cuisine is a must for foodies, its potxas (fresh white haricot beans) are simply out of this world!
Before you leave the area, a must-visit is the impressive Gorge of Lumbier. This is one of the wildest landscapes in Navarre. Explore it on foot or by bike and watch the vultures flying overhead. You'll find this landscape impossible to forget!
This is adventure and not that Indiana Jones stuff
If you're itching to break out of the routine and to prove that you're no couch potato, then take hold of your destiny and saddle up. Or were you not aware that the most important part of an adventure is simply starting it? It's true, Dr. Jones told us so.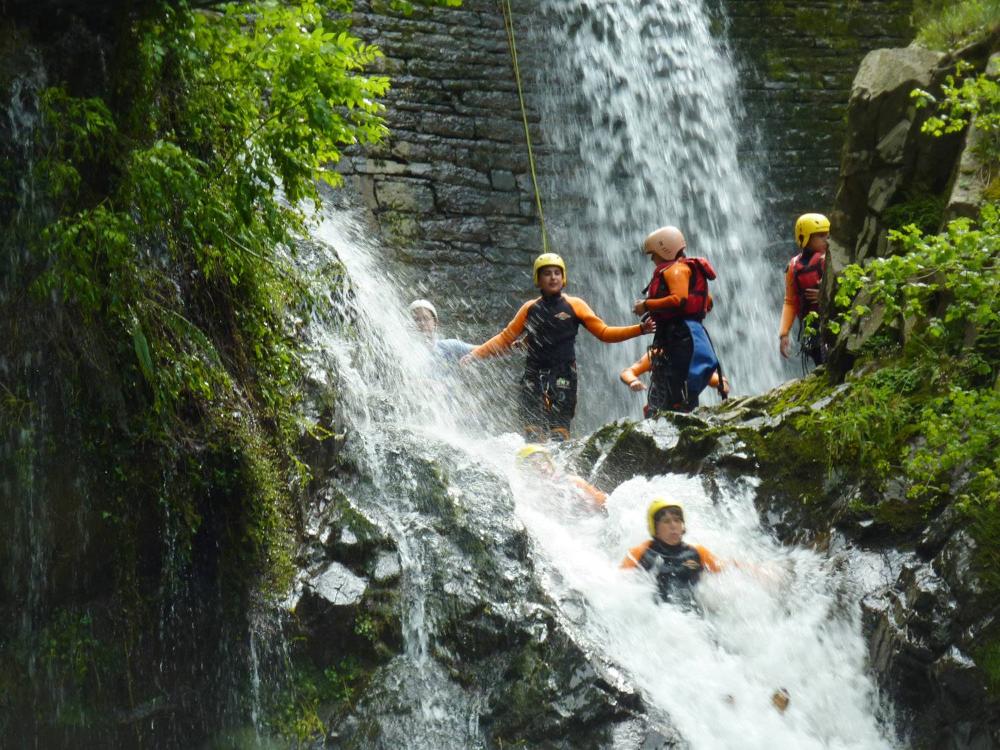 And after this jolt of energy, how about something more laid back?
Of course. Here are a few plans to enjoy at a slower pace.
Collegiate Church of Orreaga/Roncesvalles

Collegiate Church of Orreaga/Roncesvalles

The most beautiful entrance to the Way of St James opens its doors to you too

Lose yourself–and find yourself again–in Orreaga/Roncesvalles

Zugarramurdi and other caves

Zugarramurdi and other caves

Delve into a universe of ancient nature and legends of witchcraft.

Getting to know the magical side of Navarre

Olite

Olite

A castle – and its villa – that are an authentic medieval fantasy.

Take me to the past of knights and princesses