Imagine a town with cobbled streets, noble houses, medieval galleries and splendid churches. Imagine its people standing around chatting, tradesmen calling out their wares and workers toiling in the fields and vineyards beyond the walls.
Imagine a beautiful castle looming over the town. With impressive towers, luxurious rooms and the leafiest gardens ever grown.
Now you can stop imagining, because this isn't a mirage. It's a real place and you'll find it in the Central Zone of Navarre.
It's name is Olite and its castle is called the Palacio Real (Royal Palace).
We are going to give you all the information you need to pay it a visit and enjoy one of the prettiest castles in Spain.
Why visit Olite and its Royal Palace?
A medieval town centre that is a pleasure to stroll through

A medieval town centre that is a pleasure to stroll through

A palace that will let your imagination soar in a fairytale setting

A palace that will let your imagination soar in a fairytale setting

A wine-making tradition that makes it the capital of Navarrese wine

A wine-making tradition that makes it the capital of Navarrese wine
Street map of Olite
See a map to find the most interesting places in the town
Olite
Let's take it little by little.
You are bound to associate the name of Olite with its Royal Palace. It's entirely normal that a gem like this gets its fitting recognition. Although we agree that the palace is the top reason you might visit Olite, it's also true that there's no better setting to highlight the wonders of the palace than its enchanting old town.
This small town, with barely more than 3,000 inhabitants, is a maze of solid stately homes with imposing coats of arms on the façades, Roman walls, Gothic arcades and pretty churches.
Pass through the Chapitel Tower gate to reach Plaza Carlos III, admire the stately town hall, and enjoy a glass of wine at a terrace bar to get a fantastic perspective of life in Olite.
If you keep walking, you'll come across Renaissance and Baroque palaces and the Church of San Pedro on Rúa Mayor.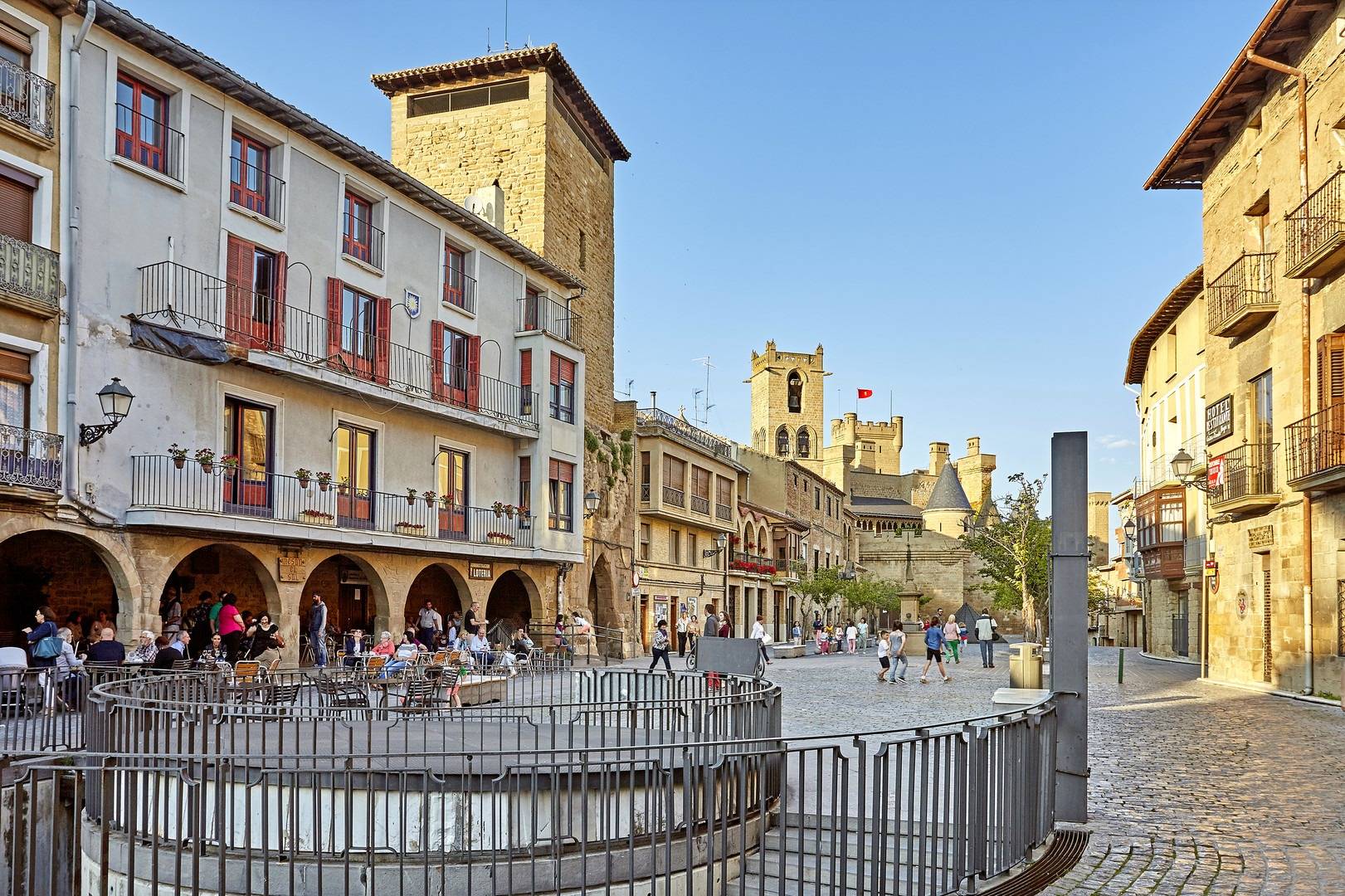 And if you're dying of curiosity to find out what Olite was like in medieval times, you're in luck because we can conjure that up for you.

If you visit during the weekend in August when they hold the Medieval Festival, you'll get a peek of the town entirely decked out with tradesmen, craftsmen, puppeteers, troubadours, clergymen, archers, falconers and jugglers who take to the streets and cause a hullabaloo.

It's not time travel as such, but the closest you're going to get.

And there's more! There's another special event in summer, in late July and early August: the Olite Theatre Festival. Be sure to catch one of the shows. The walls of this imposing castle provide a very special backdrop.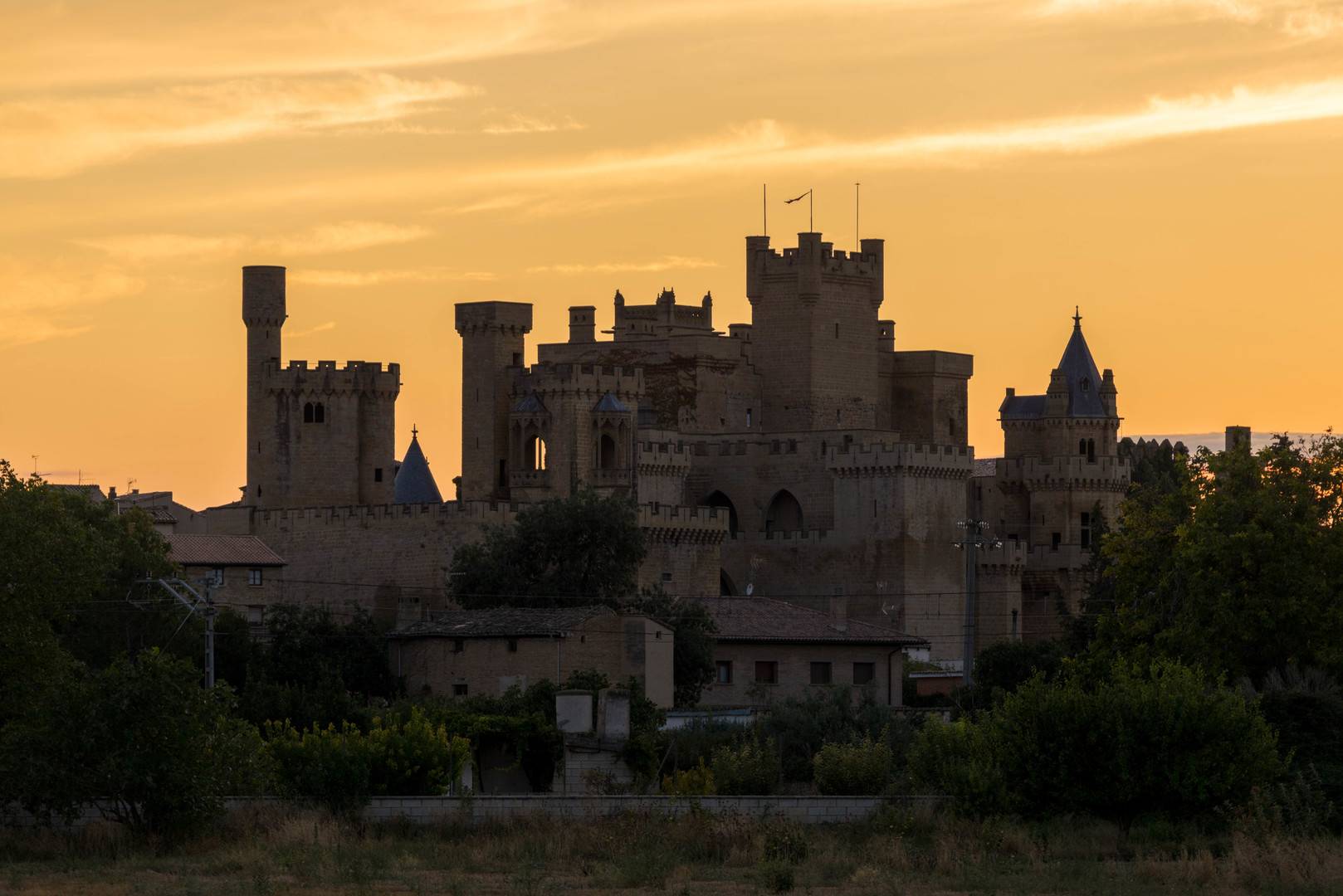 History of Olite Castle
So, now the time has come to talk about one of the most majestic castles you might find, not just in Navarre, but throughout the entire country. And that's not just our opinion, just check out the Internet reviews if you need convincing that Olite's Royal Palace is the mother of all palaces.
A National Monument since 1925, the former court of the Kings of Navarre was set up in Olite, in one of the most luxurious medieval castles in Europe. It was built over a 13th century fortress that in turn was erected over Roman remains.
Its peculiar configuration shows the influence of French architecture and Mudejar decoration. This was overseen in the 15th century by King Charles III "the Noble" who took the craftsmen in charge of the work with him to France and Castille to check out the most splendid palaces of the day.
This economic abundance resulted in an extravagant Gothic-style castle, based on towers, rooms, galleries, gardens and patios built with solid materials and finished with profuse decoration.
"I am sure that no king has had a palace or a castle that is more beautiful with so many golden rooms."

THESE WORDS WERE WRITTEN IN THE JOURNAL OF A GERMAN TRAVELLER WHO VISITED SPAIN IN THE 15TH CENTURY - NOW KEPT IN THE BRITISH MUSEUM - EMPHASISING HIS ADMIRATION FOR THIS CASTLE-PALACE.
A hanging garden
Its walls house a hanging garden and its patios were home to birds, swans, packs of hounds, lions, a camel, a ferocious wolf, parrots, buffalo and even a giraffe.
This palace was the setting for sumptuous parties, jousting tournaments, artistic shows and bull fights.
As you can appreciate, it was a castle teeming with life in its heyday, and when you see it with your own eyes, you'll understand why.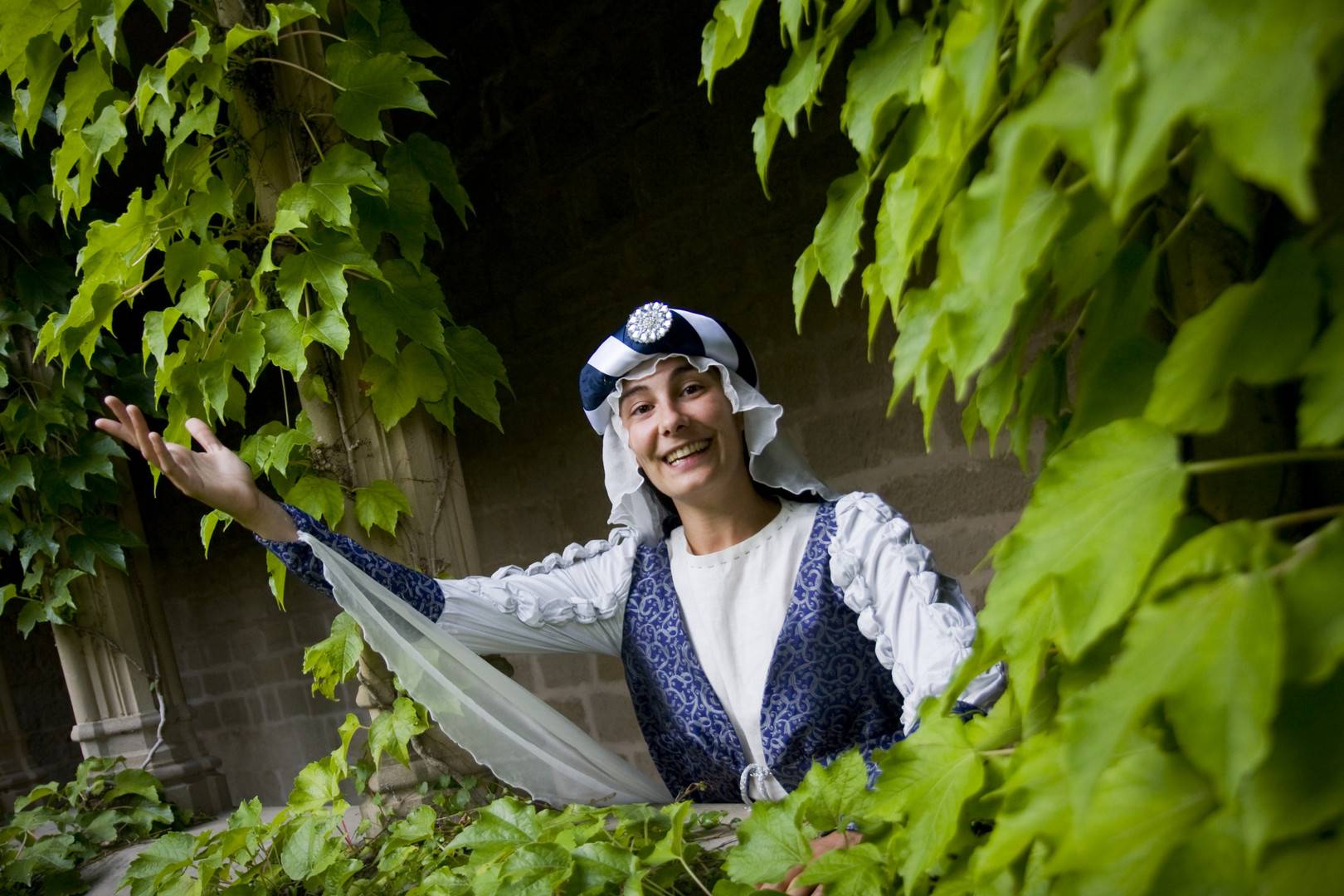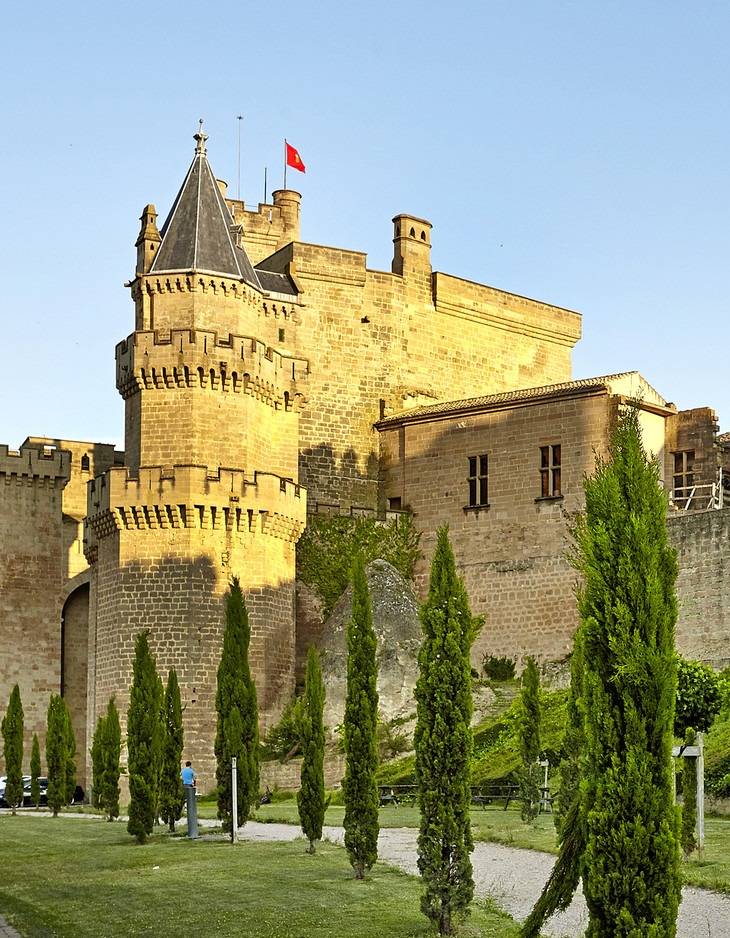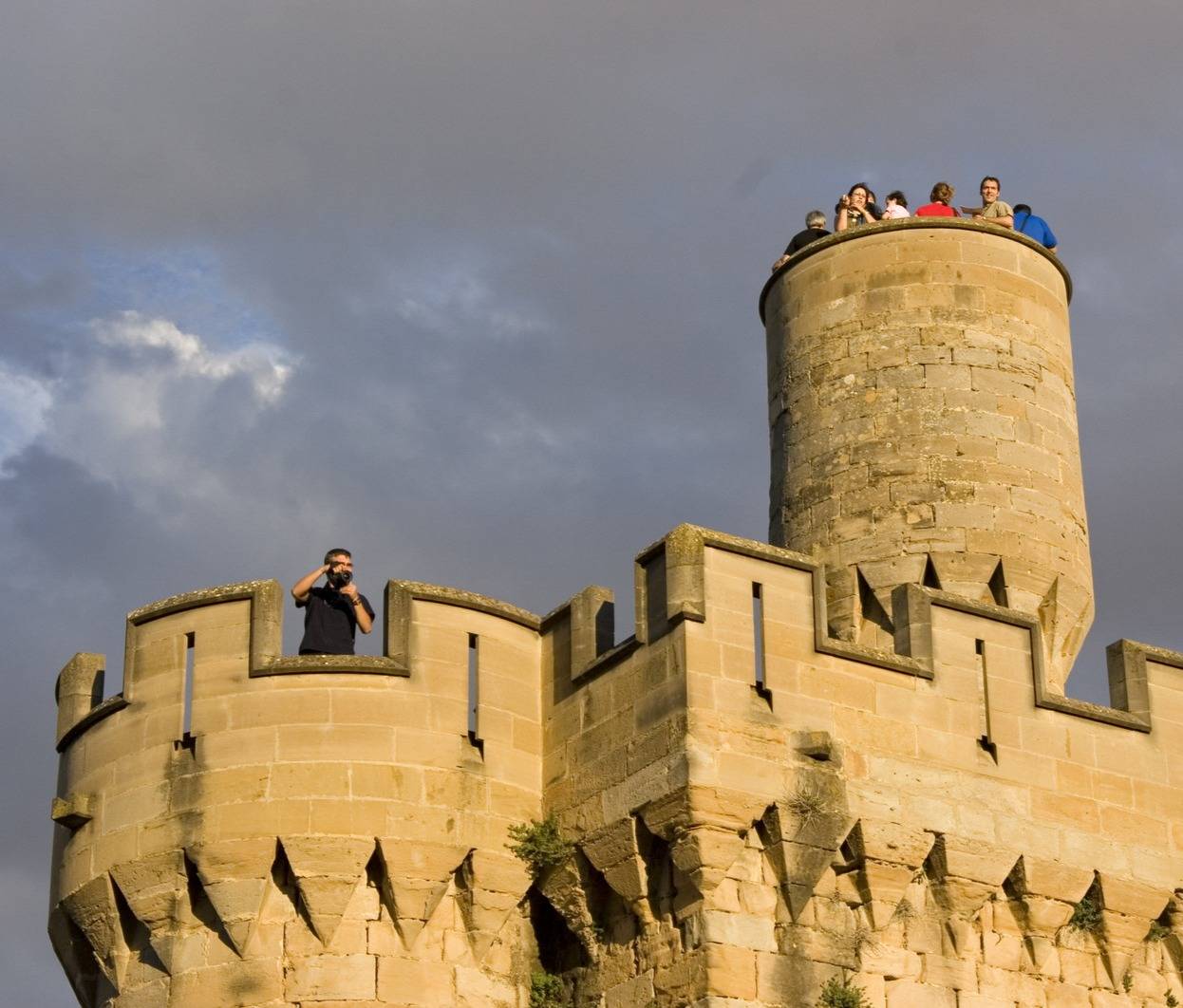 Olite Castle visit
By the way, Olite castle has two different parts, the Old Palace that currently houses a National Parador—a magnificent occasion to savour the medieval flavour from your own bed—and the New Palace, open to visitors and restored in 1937 after the fire caused by the War of Independence.
As for the visit, you can stroll around on your own with an audio-guide or book a guided tour through the buildings, which we would strongly recommend. And if you're travelling with kids, don't miss the kids' tour—including an educational pack—where the whole family will have a great time.
Whatever you decide, here are the spots you shouldn't even dream of missing:
The royal chambers: in the central core and around which the rest of the castle is arranged. Look out for the trumpet-shaped windows and the orange-tree patio, that you can reach via the queen's chamber.

The towers: built over the royal chambers, we would highlight three of them: the Homenaje tower, the tallest and most spectacular; the Tres Coronas tower, featuring capricious shapes; and the Cuatro Vientos tower, used back in the day to watch tournaments and nowadays providing beautiful views over the old town and the surrounding vineyards.

The ice well: on the shady side of the castle, you'll find this well that was used to store layers of snow and preserve food. You'll recognise it by its enormous lid that looks like an eggshell.

The gardens: both the main garden, at the entrance to the enclosure, that used to be full of orange trees and the Pajarera and Morera gardens. In the latter, you'll find the hundred-year-old mulberry bush that has been declared a National Monument.
That's all for our short chronicle of Olite's Royal Palace. We kept it brief in an attempt to rouse your curiosity and spur you to visit it when you get the chance. You'll see it was worth it.
Church of Santa María la Real.
There's more to Olite than just its castle.
The Church of Santa María la Real, joined to the castle, is a delicate example of Gothic architecture in Navarre and the court's most solemn ceremonies were held there.
Preceded by an original free-standing atrium with Gothic archwork, its façade clearly shows the influence of the Parisian workshops. Its icons and the original polychrome—recovered after its restoration—will take you back to biblical scenes such as the Annunciation, the Birth of Jesus or the Exodus from Egypt. And on either side of the door, reliefs showing the lives of the apostles framed by archwork.
Another outstanding aspect is the large rose window in the second pointed arch. You get the best view of its colourful mosaics forming abstract, geometric patterns as you enter the nave.
Inside, a Renaissance altarpiece presided over by a Gothic statue of the Virgin Mary and an image of Christ of Mena, clearly shows the influence of Flemish and Italian painting with scenes from the lives of the Virgin Mary and Jesus.
As you can see, the church is full of details to teach you all about the glorious days of the Kingdom of Navarre.
Visitas y otros planes en Olite
Es el momento de organizarse y decidir si visitas el castillo por tu cuenta o prefieres hacerlo de forma guiada. Recuerda que tienes la opción de realizar una visita guiada por todo el pueblo y conocer sus iglesias y secretos mejor guardados. ¿Y qué tal descubrir el interior de una bodega? Echa un vistazo a todos los planes que te esperan en la capital del vino.
What other cultural visits are there in Navarre?
Not bad for such a small town, right?
What's more, you can complete your visit to the town and the castle with a few other medieval villages such as Ujué or San Martín de Unx, with Cistercian monasteries such as La Oliva or the capital of the district, Tafalla. And a little further away, you'll find the Roman sites of Andelos and Arellano.
The best part is that nearly all these destinations offer guided tours, that you can polish off with visits and tasting sessions in the local wineries.
Book activities in Olite and its surrounding area here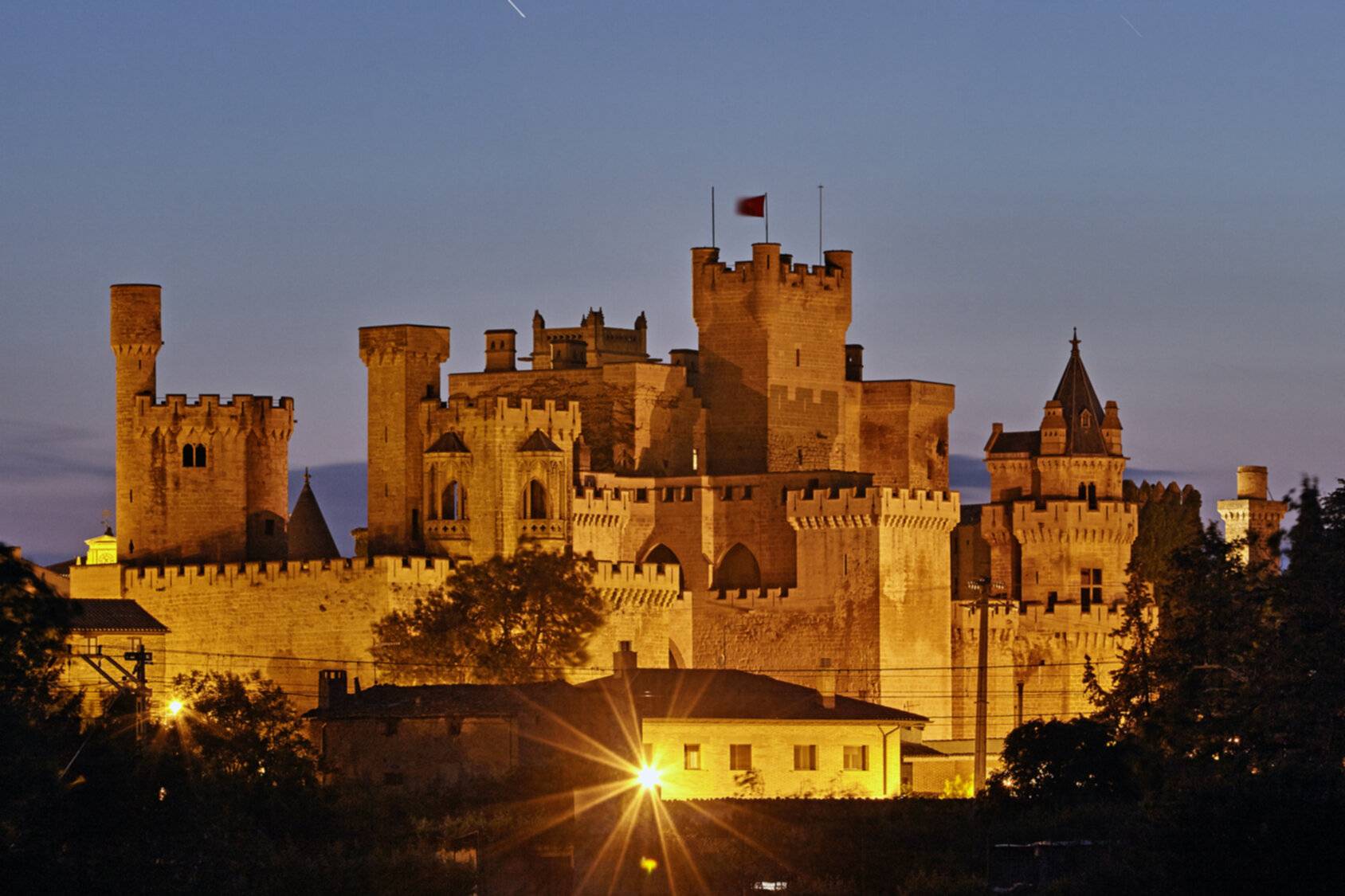 Cultural and heritage essentials
Cultural and heritage essentials
Here is our particular selection of towns and monuments that you can't miss when you visit Navarre.