"I was blown away by the lunar landscape. It's like being in a Western. The Grand Canyon, in Spain!"

THESE ARE JUST SOME OF THE THINGS PEOPLE HAVE SAID ON SEEING BARDENAS REALES FOR THE FIRST TIME.
A desert? 70 km from the Pyrenees?!
And no wonder, because running into a desert just 70 kilometres from the Pyrenees comes as a big surprise to most. Because it's a geographical rarity and the landscape is just astonishing.
It's hard to believe you can find a place like this right next to Tudela. But you can. There's a desert in Navarre, and not just any old desert, either.
What do you think of that? Want to find out more? Well, make the most of your visit to Navarre and discover a landscape that looks more like the moon than northern Spain.
In a moment, all the basic information you need to plan your trip to Bardenas Reales.
But first, one very important thing: the landscape and geological formations are an essential part of the natural park and, as visitors, you should not climb up slopes or to the top of the formations; you could damage them. We're talking about an extremely fragile ecosystem which we must all take care of.
Why visit Bardenas Reales?
Unforgettable photos

Wild nature at every turn

Wild nature at every turn

Breath-taking silence
Bardenas Reales Natural Park
We don't want to get bogged down in details, so here's a quick outline of what you need to know.
The main entrance to the natural park is from the town of Arguedas, although there are a few minor entrances to it as well. You'll see that there are three distinct areas:
- El Plano, the large plateau in the north and west used as cropland
- La Bardena Negra, in the south, formed by a set of horizontal landforms populated by pine trees and scrub
- La Bardena Blanca, the depression between the other two and the most eroded area. It is also the most photographed and visited area because it is home to the most spectacular formations, such as Castildetierra and Pisquerra, which you may well have seen in a film or two.
And why is this park so special? Well, here are a few reasons: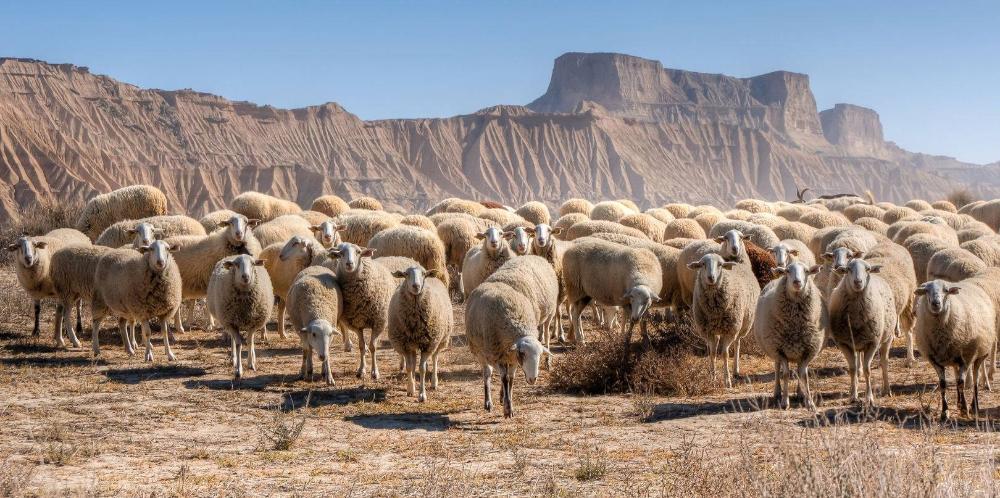 Declared a UNESCO Biosphere Reserve, Bardenas Reales is a natural park covering 42,500 hectares.

This means you'll find a biologically rich area in which sustainable development is respected.

Its flora and fauna are more typical of Africa than northern Spain, and it used to be home to crocodiles and turtles.

Eagles, vultures, owls, bustards, foxes, wildcats, genets, amphibians and reptiles can now be found in and around its scrubland, salt marshes and areas of Mediterranean saltwort and esparto grass. It's like finding an oasis in the middle of the desert; but the other way round.

The vast network of tracks and roads, which include the Cañada Real de los Roncaleses, the old drovers' road from the Roncal Valley in the Pyrenees, means you have boundless space for hiking and cycling.

And you can also go by car, so long as you follow the signposted routes, of course. Or why not get hold of a quad, Segway or dune buggy from one of the local rental firms?
Sound good? There's more!
Here are some other great ideas for your trip to Bardenas Reales.
Bardenas Reales Information Centre
Before venturing into this fascinating desert, we recommend you pay a visit to the Information and Reception Centre. You'll find it at Finca de los Aguilares, 7 km from Arguedas — take a left on leaving the town.
There, they'll tell you where you can go, give you maps of the area and answer any questions you may have about the park.
And you'll also be able to see the diorama, the small archaeological exhibition and the full-size reproductions of birds as a foretaste of what awaits you inside the park.
More information from the Information Center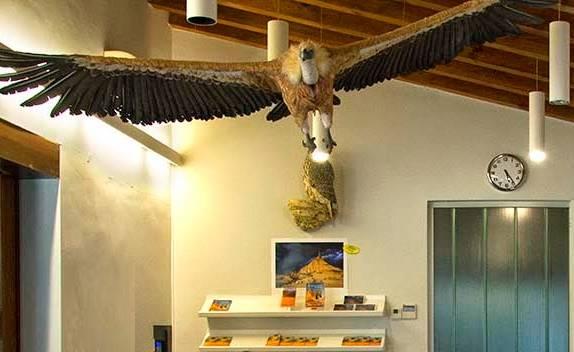 Plan your trip to Bardenas Reales
Now some practical information; everything you need to know to enjoy the park.
Bardenas Reales Natural Park and Tudela Viewpoints
We almost forgot! We don't want to end this section without telling you about 4 viewpoints from which to enjoy outstanding views of Bardenas Reales and Tudela:
Virgen del Yugo Viewpoint

5 kilometres from Arguedas. There's a hostel, recreational space with picnic area, playground and car park. And an awesome view, of course.

Sendaviva Viewpoint

Located in the Sendaviva Park, this is a double viewpoint, which both overlooks Bardenas Reales and has a section with visual trips through Navarre's Ribera region.

La Blanca Viewpoint

A few minutes from the Information and Visitor Reception Centre, this is a privileged balcony over La Bardena Blanca.

Cerro de Santa Bárbara Viewpoint

A hillock in Tudela with a beautiful view of the city, the market gardens of La Mejana, Bardenas Reales and the River Ebro. Not to be missed.
Quite a surprise, eh?
All that's left for you to do is check it out for yourself: Bardenas Reales awaits you.
Visit the official website if you want to find out more.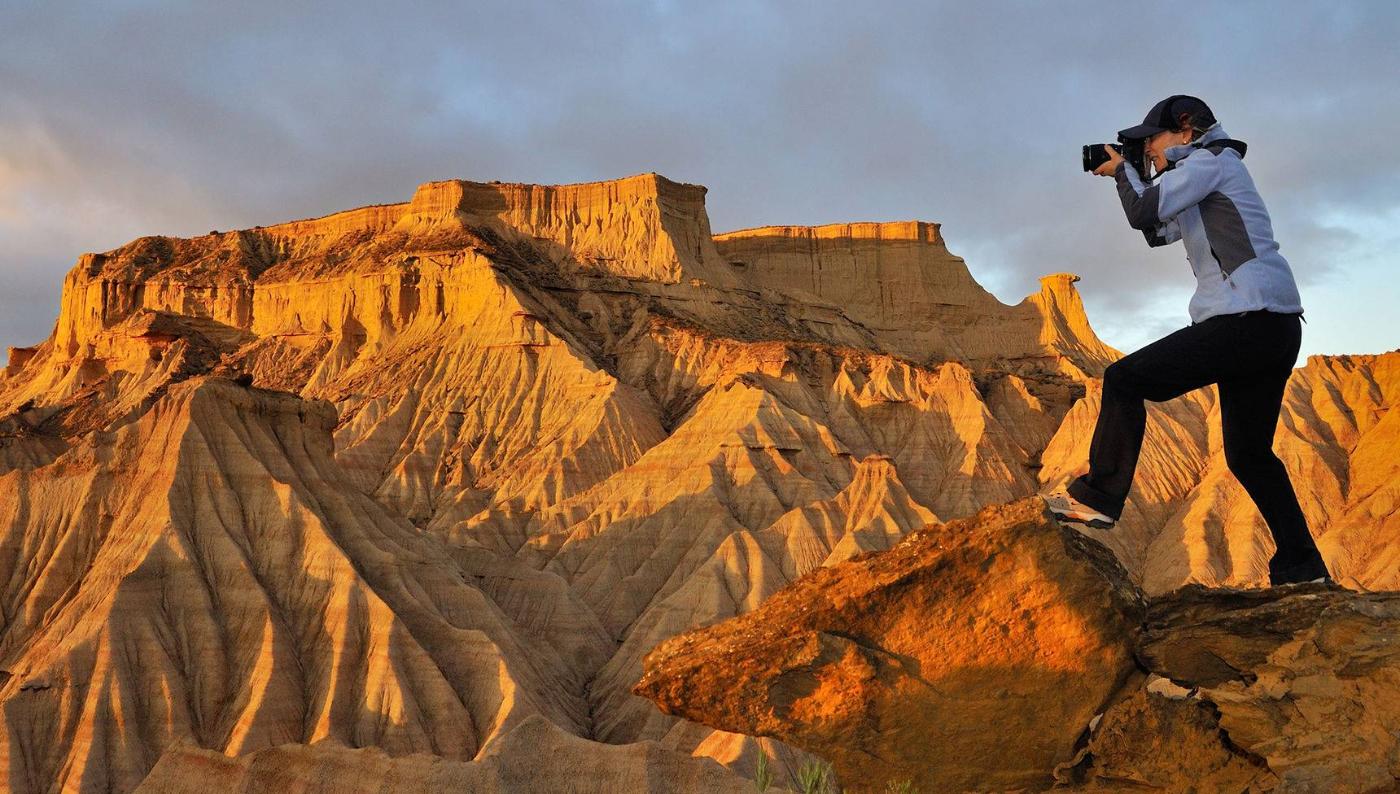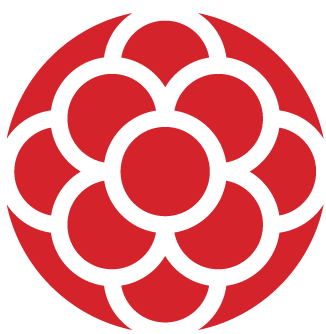 Other things to do in the area
Sendaviva adventure and fun park

Just a few kilometres from Bardenas Reales, there's another place that's sure to surprise you.

An adventure park with thrilling rides, a great assortment of animals, circus shows and fun activities for all the family.

A temple of fun, adrenaline and nature to enjoy at your own pace. If you don't have much time, you can spend a day of your holiday there.

And if you want to enjoy the park at your leisure, there's a very special hostel on-site. The facilities are decorated as a forest where children can have a great time. Want to live an adventure?

Sendaviva and other adventure parks in Navarre

Tudela

Important!

If you visit Bardenas Reales to soak up nature, you can't leave without making another stop.

You can't pass through the Ribera without paying Tudela a visit. And that's that; there are no two ways about it.

Tudela isn't only the second largest city in Navarre.

It's a city with a wealth of architectural heritage which perfectly reflects its culturally mixed past, featuring Christians, Arabs and Jews. The Cathedral of Santa María is its true gem, and you shouldn't miss it for anything. Or the lively and charming Plaza de los Fueros, the heart of the city, either.

But what a surprise! Strolling through the streets, you'll come across creative contemporary art murals adorning many of the city's old façades. They were developed at the International Avant-Garde Festival.

But there's more. Tudela is also a thriving agricultural town, with vegetables that are the envy of most gardeners. It's a land of festivals and traditions, of friendly, hospitable people.

So leave a space in your agenda for a walk through beautiful Tudela. It's the perfect complement to the arid beauty of Bardenas Reales.

I'm interested in a city break in Tudela