After reviewing the information available on the actual resource websites and on specialist portals, we've come up with some suggestions that include almost 40 top tourist sites.
Given that this information may be subject to change and to different interpretations, you are advised to contact the person in charge in order to clarify any doubts and check that the accessibility conditions are still the same.
Physical accessibility in Pamplona
The neighbourhoods, city centre and old quarter are fairly accessible to persons with reduced mobility. Wide pavements with smooth, even surfaces, unique platforms and dropped kerbs, are the trend in the centre of Pamplona.
There are numerous parking spaces reserved for PRM who have a parking card, and more than 600 in underground and surface car parks. Check out the parking spaces on the map. Furthermore, the urban bus network is also accessible for PRM.

Before visiting the city, it's a good idea to drop by the Tourist Information Office, located next to the City Hall and right on the Way of St James. It is accessible to persons with reduced mobility and you'll be able to ask about the accessible places and activities in the city. For example, to get to the cathedral of Santa María la Real located next to the city walls it is preferable to do so along the street called Calle Dormitalería, thereby avoiding the long slopes in the Calle Curia and Calle Navarrería streets.
You will also find NaviLens markers which provide information on accessibility at different points along the Way of St James. Some of these markers indicate alternative routes when the section is not accessible to wheelchair users. For example, there is information on how to access the Old Quarter of Pamplona by using the outdoor lift in the Calle de Descalzos street, instead of through the Portal de Francia gateway in the city walls.
General information on what to do and see in Pamplona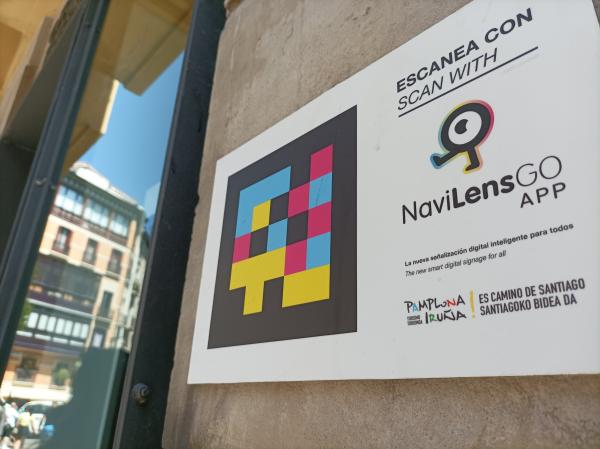 Book your stay
Google: wheelchair accessible accommodation in Navarre

Booking: provides information on the accessibility of the establishment and the guestroom and, in each case, it applies certain criteria. The filtered searches of most interest are indicated below:
* All the accommodation options in Navarre more info
Airbnb: all the accommodation options in Navarre more info

Equalitas Vitae: is a portal specialising in travel for persons with reduced mobility. As well as accommodation, it provides information on restaurants, natural spaces, culture and activities
Tripadvisor: all the accommodation options in Navarre more info
Hoteles.com: all the accommodation options in Navarre more info
Trivago: all the accommodation options in Navarre more info
Kayak: all the accommodation options in Navarre more info
Atrápalo: all the accommodation options in Navarre more info
Omnirooms: is an accessible portal specialising in accessible accommodation for people with reduced mobility (PMR). Once you have selected the dates and, based on the results, you can select the accessibility filters that are right for you. All the accessible accommodation options in Navarre more info