Navarre is synonymous with health and wellness tourism.
That's because we've got everything ready to welcome you with open arms and with a really clear goal in mind: to give you R&R time so that you can recharge your batteries.
Navarre is one of the destinations with the best quality of life indicators; and this is no mere chance. The excellent choice of hotels, and rich and healthy cuisine, are just two good reasons for choosing Navarre as the perfect place to care for you.
But there's even more: exceptional places to pamper yourself - spas and spa hotels -, doing trail walking and other activities in which the common denominator is peace and quiet, while stress is a non-existent word here.
Simply take a deep breath to breathe the purest air around: you'll only relax once you get to Navarre.
Disconnect from everything and connect with yourself and with those that matter to you, in an ambience of peace, wellness and exclusivity.
The perfect threesome for a healthy holiday destination.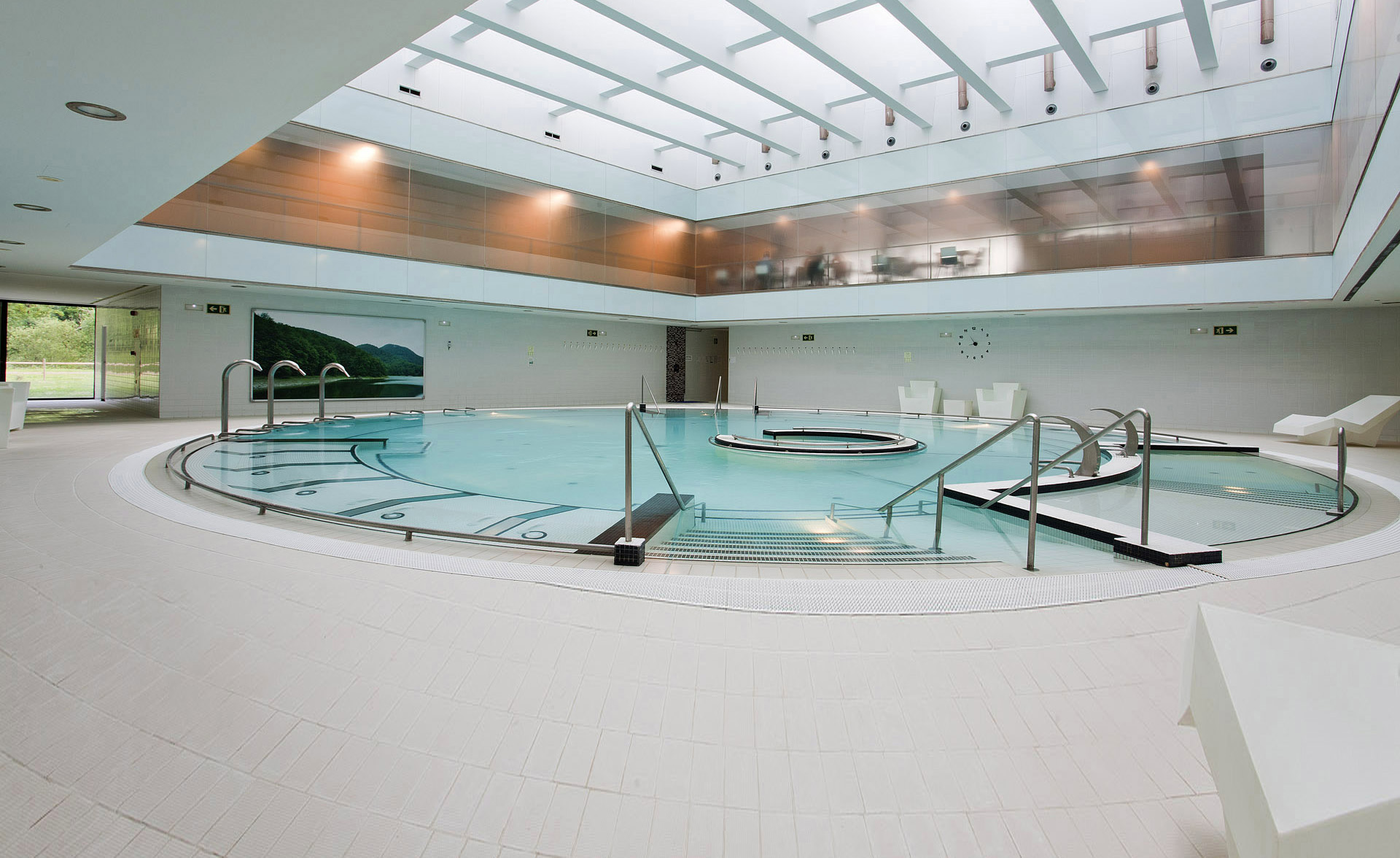 Spas in Navarre
Navarre offers you two real temples of health, one in the north, the other in the south.
And, listen up, they offer all kinds of treatments to keep your menssana in corpore sano. Even the most innovative ones.
So, close your eyes and imagine spending your much-cherished holidays away from all the stress, in one of these spa and leisure centres.
Take a dip in our hydrothermal pools, get all types of massages, experiment with therapies with chocolate, oil or wine as the main ingredient.
Or try a steam bath, wrap yourself in mud, or nourish your skin in a thousand and one ways.
So, now that you've got this clear, all that remains is to decide on which spa to go to in Navarre:
Elgorriaga Spa

This is the one in the north, specifically in the municipality of Elgorriaga.

When you get there, you'll see that it's an extensive estate which has the medicinal mineral water spring with the highest concentration of salts in Europe - get ready to float!

Here you're going to be able to immerse yourself in whirlpools, pamper your skin in Turkish baths and saunas, relax with an oriental massage and experience the benefits of chocolate therapy or olive oil therapy.

What's more, there's a gym and a hotel specifically designed with your relaxation in mind.

Check out the Balneario Elgorriaga spa website

Fitero Spa

In the south, you'll find this age-old spa, built over two springs that have been adapted to offer you two separate facilities: the Gustavo Adolfo Bécquer spa and the Virrey Palafox spa.

The most popular treatments at these facilities are the bubble baths, the thermal sauna, the circular shower and the water jets.

That's to say, everything you need to recharge your batteries while on holiday.

A hotel is also part of the complex, if you're thinking about staying in this haven of peace which, by the way, is located in the municipality of Fitero.

Check out the Balneario de Fitero spa website
Hotels dedicated to your wellness
We're talking about hotels where you can set up your base camp, allowing you to explore Navarre and to discover all the good things it has to offer. Just follow the links below:
Trail walking
Trail walking in Navarre is something special.
A countryside of contrasts that changes with every step you take, with scenery that is so varied that you get the impression that you've travelled thousands of kilometres.
The well-maintained trails will lead you to delightful villages, allowing you to completely switch off and to get back to basics.
Because these trails have this special something that is difficult to explain. A combination of nature and peace, which is really good for your health.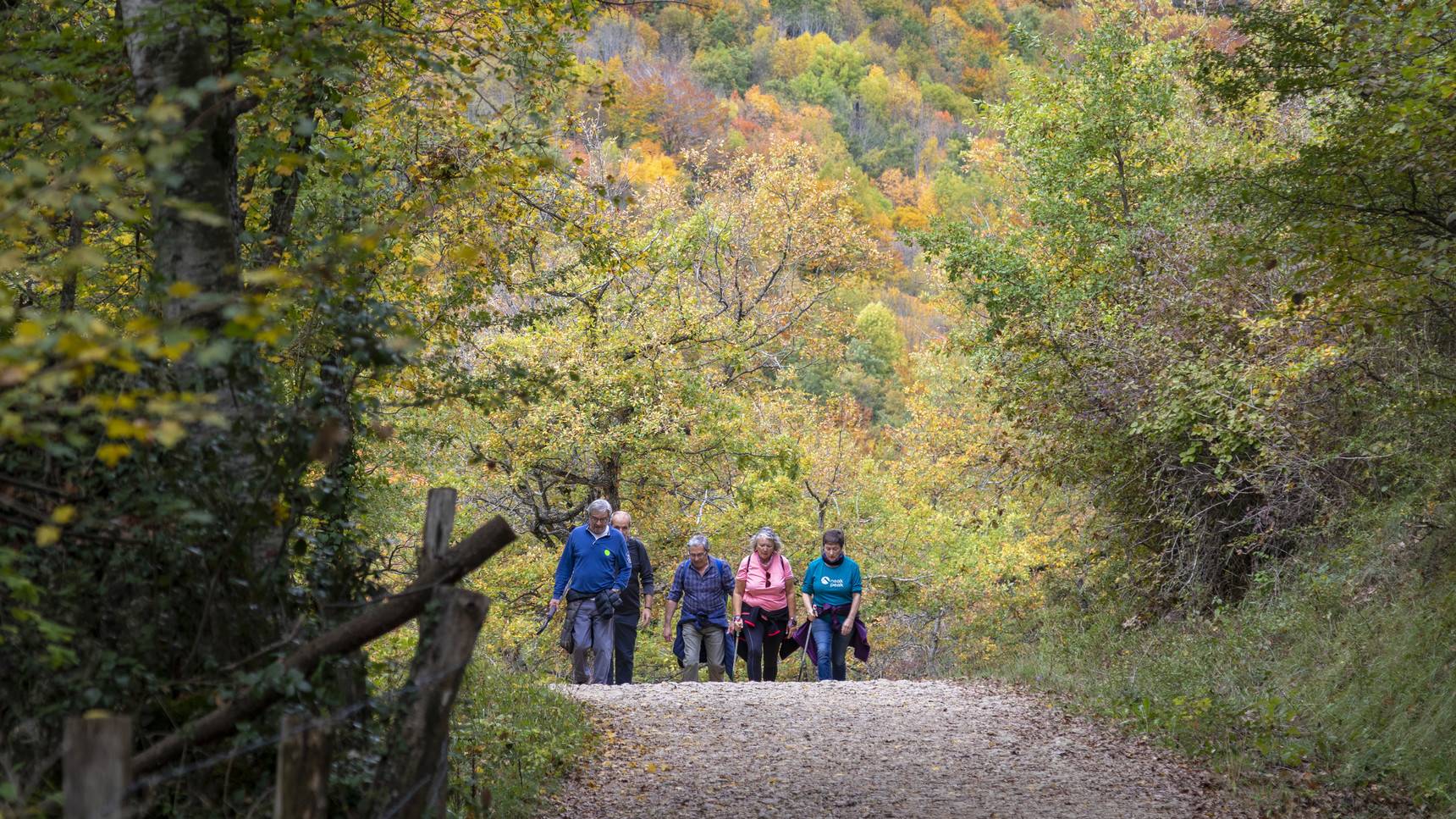 You simply need to decide which trail to take:
nice rail trails, trails alongside rivers that take you to the river source, others that go round reservoirs, paths that take you into the depths of the woodland or those that lead you to some stunning viewpoints...
and if you like the philosophy of Nordic walking, then we can offer you a number of centres located all oooooooover Navarre.
It's a difficult choice, isn't it?
I want to do trail walking in Navarre
Relaxation time: get immersed in nature
Because nature is synonymous with wellness.
Walks in nature in which peace and tranquillity accompany you every step of the way. And pure fresh air that fills your lungs with oxygen and health.
Can you feel it?
And all this in settings that appear to come out of a fairytale. Just like these:
Bardenas Reales Natural Park

Zugarramurdi and other caves

Gorges of Lumbier and Arbaiun

Urbasa-Andía Natural Park
Show more idyllic spots
The culture of relaxation
Because if Navarre is brimming with nature, culture doesn't lag behind.
That's why you're invited to take a stroll through the rich historical past of Navarre, the heritage of prehistoric, Roman, Muslim and Christian peoples who, with their splendour, have given the Kingdom an enviable rich heritage.
On your path, you'll find beautiful Romanesque churches, monastery cloisters that are an invitation to meditation, the most traditional granary cribs and mills, and legendary spots such as Roncesvalles or the Sanctuary of San Miguel de Aralar.
Be warned, this is just a small taste of what Navarre has in store for you! Because there's much, much more.
I want to see more culture in Navarre
Navarrese cuisine is healthy
And this is something that is going to be made abundantly clear, just by taking a look at the produce grown in Navarre.
Because one of the best ways to pamper your health is to sample dishes prepared with fine quality produce, using many 0 km local products, with particular mention of the locally-grown vegetables.
What's more, in Navarre you can savour your food without looking at your watch, practising slow food which is becoming an almost spiritual experience.
And all this in signature restaurants which are a real treasure.
Get more food experiences here
Health tourism in Navarre
Find out everything Navarre has to offer in Health Tourism
Navarre, a destination to feel good about yourself
Get one thing clear: a health tourism visit to Navarre is always a wise choice. So much so that, once you've first experienced it, each time your body asks for a break, you'll be thinking: Navarre.
To round off your stay, we've put together a range of proposals for each season:
When are you coming?
Discover what Navarre can offer in each season