Geraniums, petunias and daisies. Almond trees in bloom. The radiant green of the first leaves and fields of crops. Tiny creatures emerging from their winter hiding holes. As well as all the people who, like you, cannot wait to pack away their winter coats, step outside and feel the sun on their faces.
Spring is here; the world awakens. Navarre chooses March to put on her finest attire, with the most flattering colours: Pink cherry blossom, turquoise waters of the Source of the River Urederra, and the ever-green trees in the Pyrenees, spreading for a couple of months right down to the crop fields in the Bardenas desert.
Navarre in springtime is an ode to the outdoors. This time of the year makes us feel like going to a rural holiday home and venturing into leafy forests with uncountable shades of green. Visiting the Taconera Gardens in Pamplona and watching the deers whilst they snooze in the sun. Dusting off our bikes and following a mountain trail or the fascinating Rail Trails.
The landscapes and walkers along the Way of St James glow with the spring air, asparagus burst from the ground in the Ribera allotments, and the city streets are bustling with shoppers and diners drawn like bees to fresh lavender.
They say that spring fever is upon us. We believe this is true, and springtime in Navarre is truly a sight to behold.
Reasons for coming to Navarre in Spring
Nature recovers its shine after the winter slumber

Nature recovers its shine after the winter slumber

Pamplona starts off with plans for all tastes

Pamplona starts off with plans for all tastes

The stove fires alight with tens of gastronomic events

The stove fires alight with tens of gastronomic events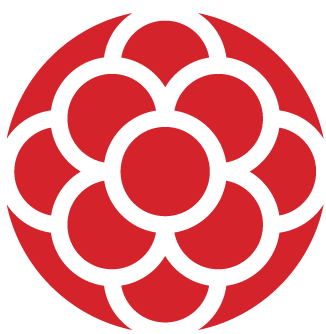 The best springtime plans in Navarre
We can say it loudly and clearly: the top plan is to emerge from your homes, as winter has been long and it's time to get moving!
How you do this is up to you. In this region you have the luxury of choosing. Whether you want to walk through the Orgi oak forests in Ultzama, dive into the medieval past of Estella-Lizarra, or pay gastronomical homage during the Navarre Pintxo Week, which usually marks the end of winter and the start of spring. You can drink up the history of monumental Pamplona, follow one of the Rail Trails, or discover Navarrese wines along the Wine Route.
As you can see, there is no place for boredom. If you need a couple of pointers, this is the section for you: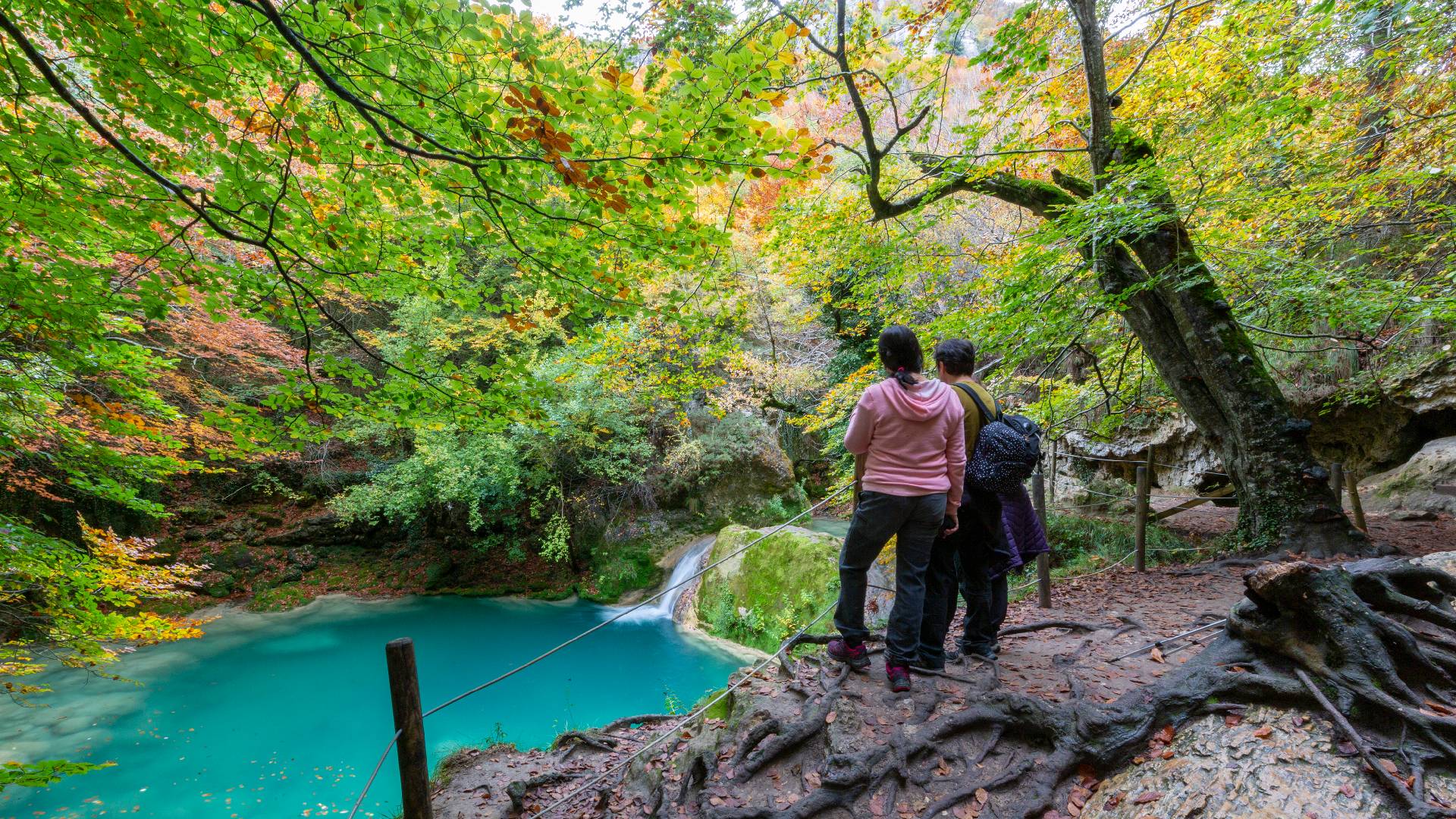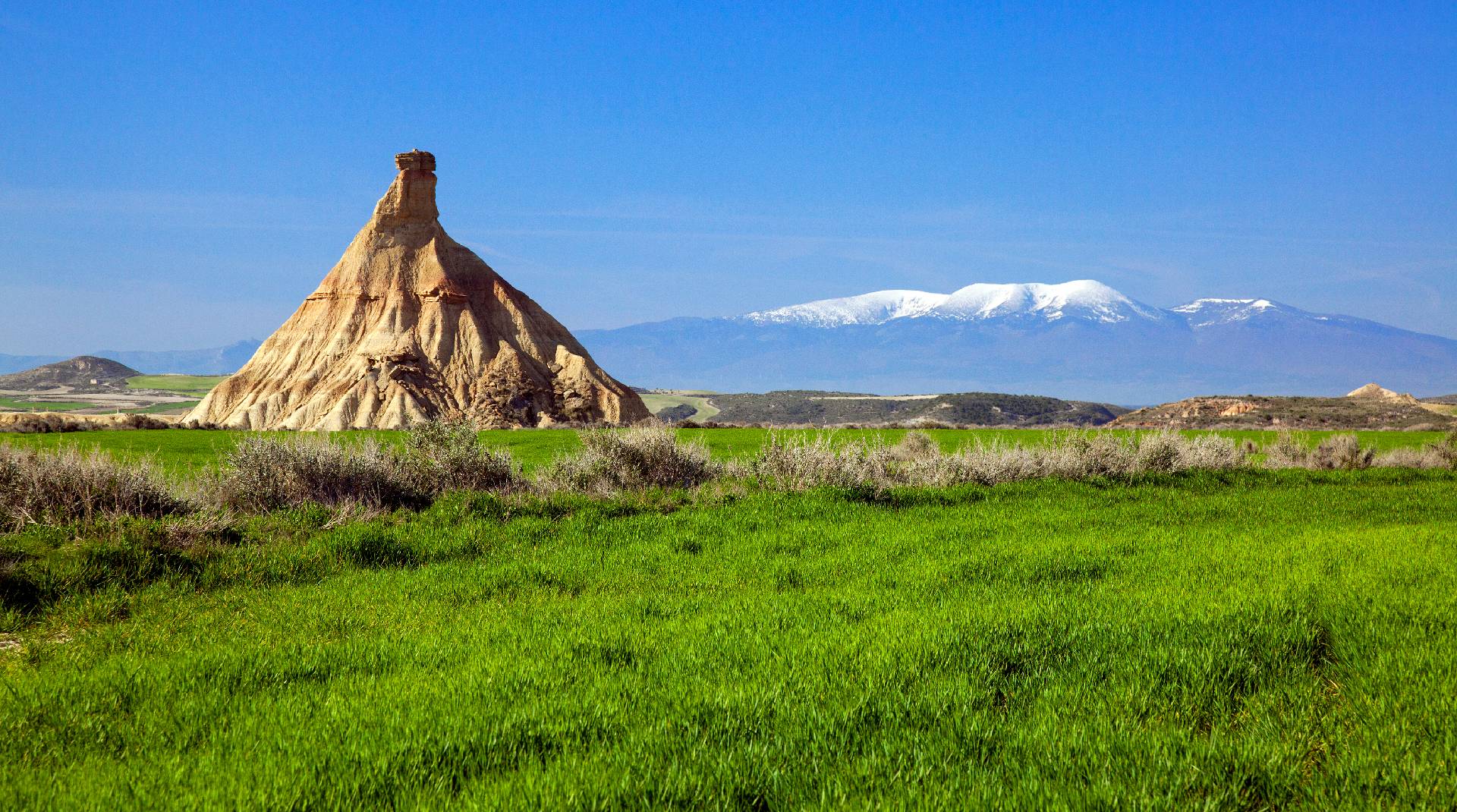 Forests and natural parks where you can unwind
If you are tired of the same four walls and would rather see tree boughs above your head, Navarre has plenty of forests to choose from. Visit the beech groves on the Mata de Haya trail in Belagua, and you will feel you are walking under the central nave of a Gothic cathedral. Photo opportunity guaranteed!
One option for good weather is a trip to the Leurtza reservoirs. Its trails through the beech trees and barbecue areas make for a wonderful day out.
Another fabulous destination is the Urbasa-Andía Natural Park. Dolmens, huts for shepherds, meadows, beech groves and breath-taking viewpoints, such as the Balcón de Ubaba (also known as Pilatos) or the viewpoints from the Sierra de Andía. Not to mention, of course, the Source of the River Urederra. For many, this is one of the most beautiful landscapes in Navarre.
If you are looking for something different, our recommendation is simple: the Natural Park of Bardenas Reales. You will think you are in Arizona or in the Game of Thrones, but no, you are still in Navarre.
Everything about must-see nature
The Way of St James in full bloom
The truth is that except for winter, the Way in Navarre is a delight all year round.
Spring is especially wonderful because the days are longer, temperatures are mild, and the landscapes next to the trails are bursting with flowers.
What can we say about the stages... Setting off from Orreaga/Roncesvalles, crossing Pamplona and walking through villages with a medieval feel such as Puente la Reina, Estella-Lizarra and Viana is a pleasure during this season.
No joke. If this is your favourite season, you are bound to fall in love with the Way in springtime.
I want to follow the Way of St James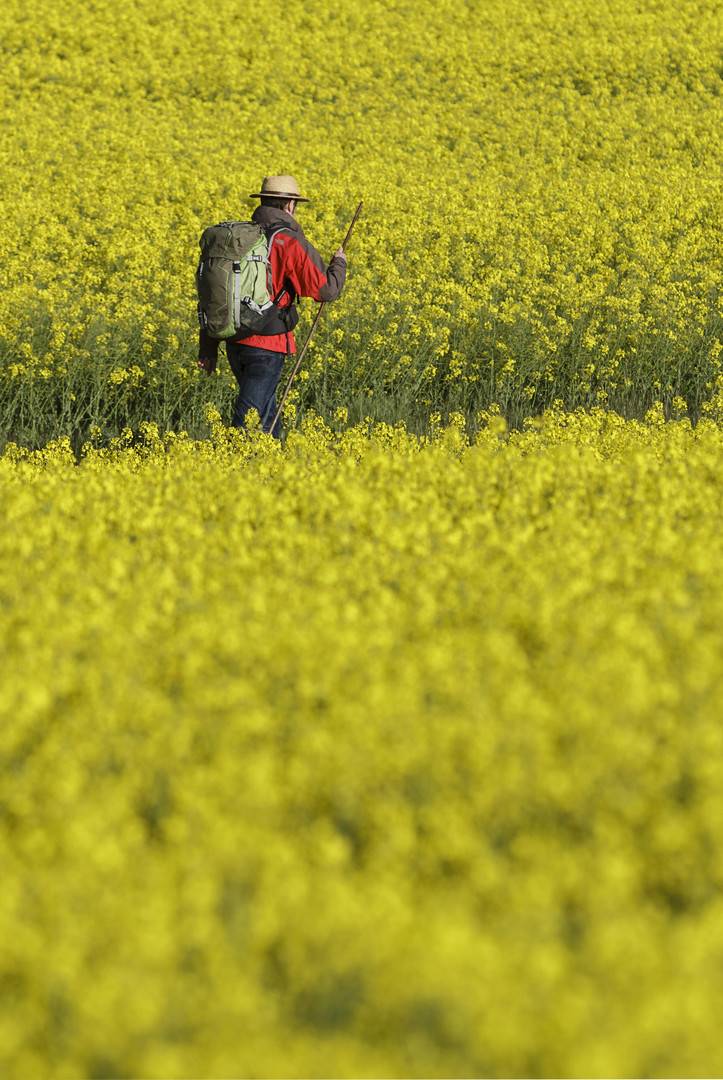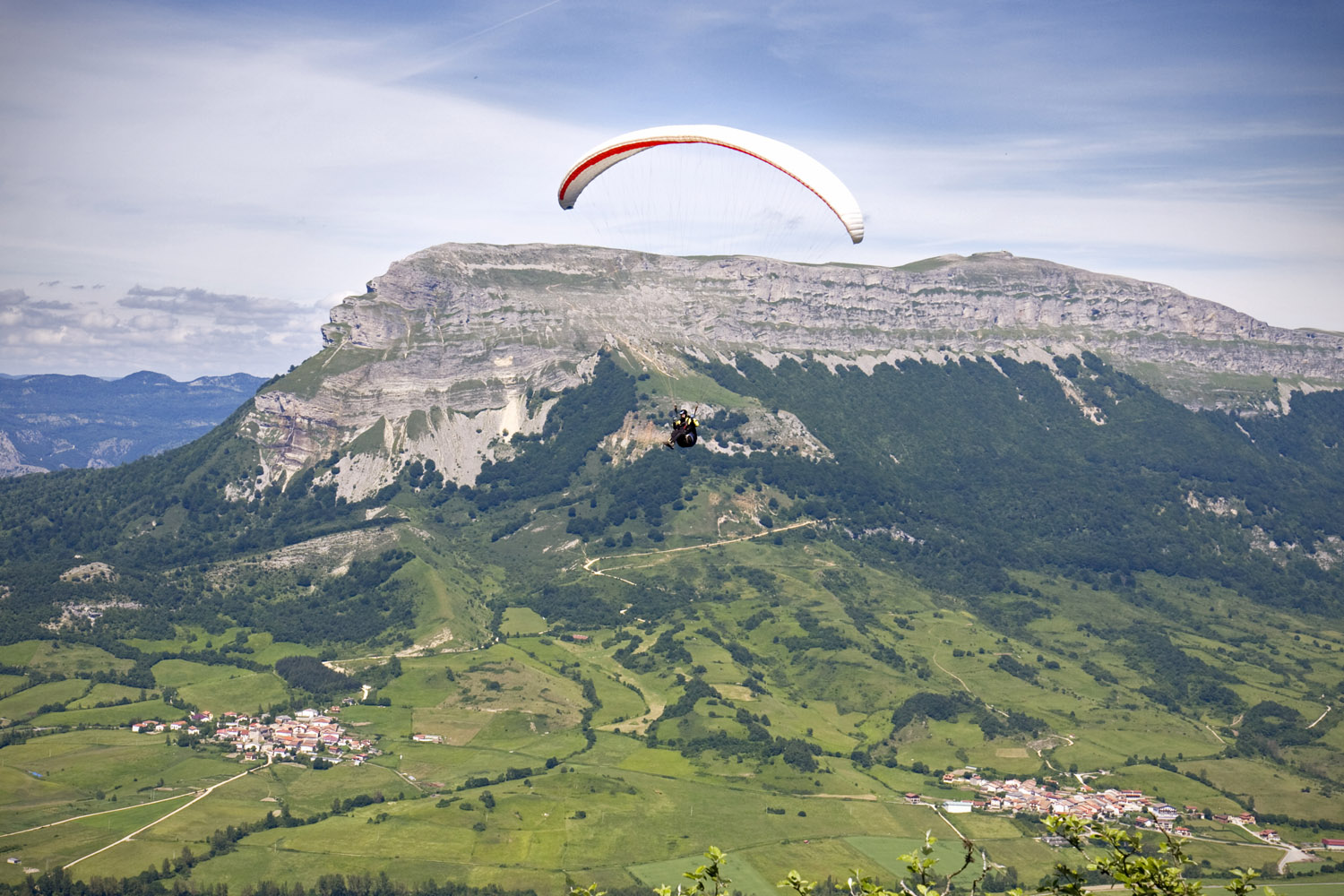 Enjoying outdoor sport
Spring gives us a fresh burst of energy, which needs to be channelled.
Hiking

At last! The explosion of green has reached the Navarrese forests. Walking along the pathways with a leafy green ceiling shading us from the sun is a true delight.

There are many kilometres of trails still to go, so let's whet our appetite with some of our favourite springtime hikes.

If you feel like getting the whole family out to stretch their legs, suggest a trip to the Source of the River Larraun-Iribas. This extremely pleasant circular route is perfect for rounding off with a delicious meal in a nearby cider house.

Other walks that will leave you refreshed and tranquil, are the Rail Trails, such as the Tarazonica, a 22-kilometre route that joins Tudela and Tarazona, through gentle landscapes and past carefully-tended allotments.

Finally, if you have never lost yourself in an enchanted beech grove, we recommend the Mountaineers Itinerary in the Urbasa-Andía Natural Park where you can let your imagination soar.

 I want to go hiking

Cycling and mountain biking

The time has come to service your bike because fine weather brings with it the urge to get pedalling. There are many different enjoyable and safe cycling routes in Navarre.

In fact, there are various Greenways which are much appreciated by Navarrese locals for their good condition and beauty. One of these is the 42-kilometre Navarrese stretch of the Plazaola Rail Trail, which joined Pamplona to San Sebastian.

Another example is the Eurovelo Route 1, which will join the Norwegian fjords with Portugal. The stretch which passes through Navarre is practically finished.

However, if you are looking for more excitement and want to give your mountain bike a good run out, the Esteribar Valley offers 12 mountain bike routes to choose from, more than 400 km to cover in the Pyrenees, a further 46 km in the Central Zone, and 2,000 kilometres of paths to enjoy in Tierra Estella.

I want to explore Navarre by bike
Active tourism in nature
Here, Mother Earth has etched landscapes and mountains for centuries; perfect for visitors looking to try out different sports.
Canoeing and paddle surfing

Chico en segway por un bosque

Buggy and segway

Rock climbing and ziplines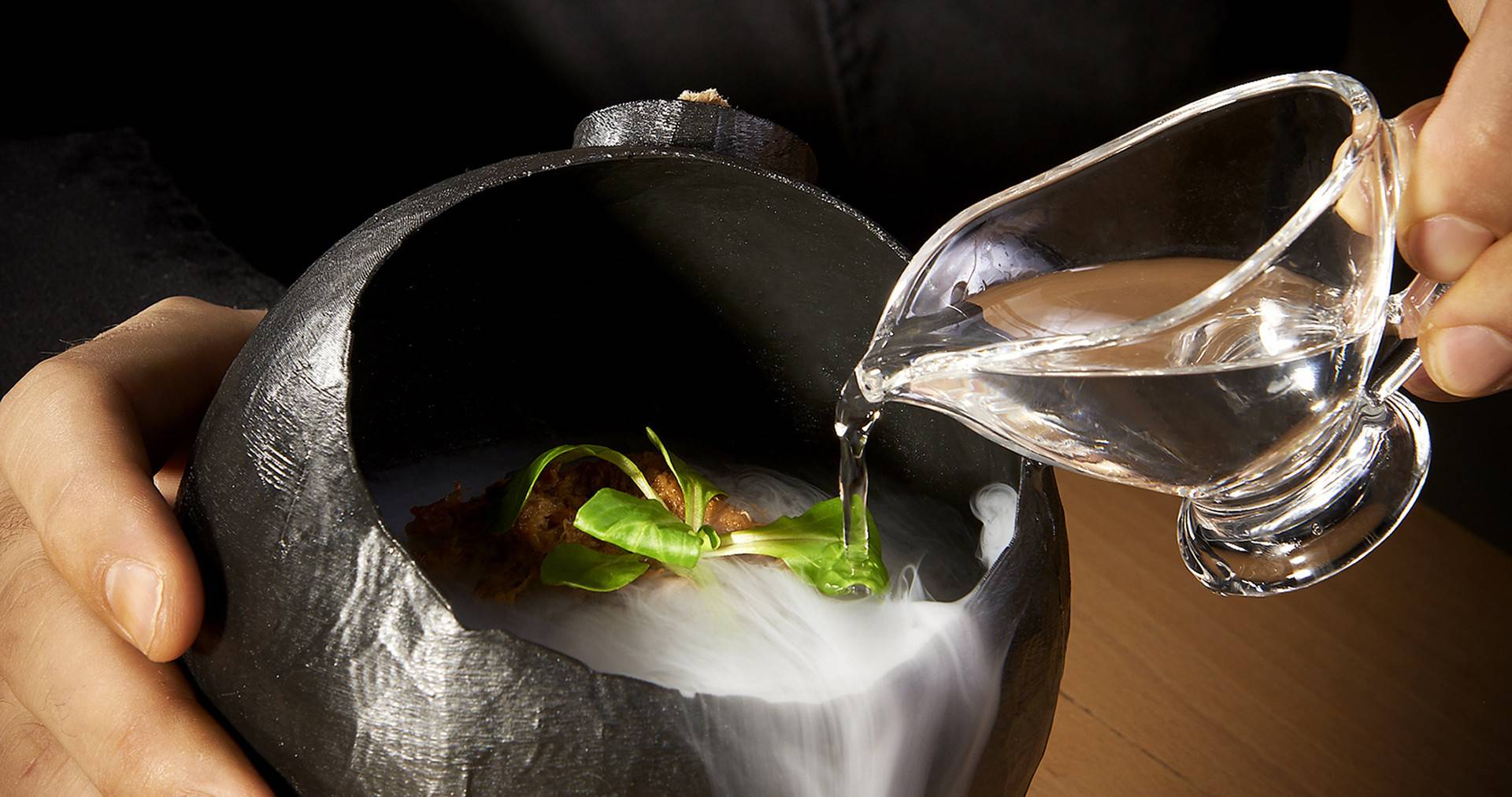 Gastronomy
With so much outdoor activity you are bound to be hungry. Luckily for you, Navarre is the place to be if you are peckish. There are so many rich and varied gastronomic possibilities in this region that you will be surprised day after day.
With this introduction, it goes without saying that one of the essential spring plans is enjoying our food... And drink. We have produce, technique and enthusiasm, so be sure to note down our recommendations.
If you love wine and are interested in finding out how it is made, the Navarre Wine Route is an essential visit. Discover the inside of wine cellars and taste the wines with expert guidance. Do not leave without calling in to any of the numerous festivities held around this time for rosé wine.

If always order everything because you cannot decide on one dish, the Pamplona Pintxo Week is what you have been waiting for. We can sum it up in three words: flavour, innovation and quality.

What about visiting an artisan cheese factory? See the animals, discover the manufacturing process, and of course, leave with unique cheeses for your next gourmet meal. Yum yum.

In general, any worthy foodie knows there is nothing better than sitting down at a table in one of our cider houses, roast houses and restaurants. Many of these premises are committed to organic, local produce, and have been awarded the KM0 label. You will be hard pressed to find fresher, seasonal food - with the particularly outstanding asparagus - or more comforting wines.
Room for more? Don't worry, we have plenty more to offer. If you need even more ideas for spring plans, take a look at the gastronomic dates on the calendar, awaiting you in Navarre: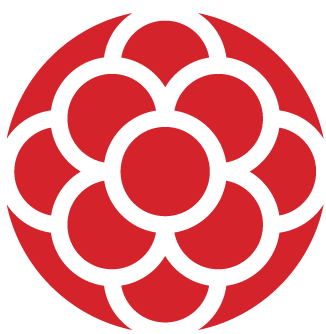 Navarre in spring: leisure time begins
With rising temperatures, councils and businesses that had shut for winter, begin to pop up like the daisies, keen to entertain locals and visitors alike.
Festivity and events calendar

A Navarrese Pintxo Week here, an Asparagus Day there, not forgetting Cheese Day... Plus Vegetable Exaltation Days for you, a Vinofest or Rosé Wine Festivals for me.

More? There is always the Spring Fair in Elizondo, the Day of the Almadía (Raft) in Burgui, or the pilgrimages to Ujué and to Orreaga/Roncesvalles. And, of course, Craft Fairs: the Navarre Craft Fair held in Pamplona, and those held in Estella-Lizarra, Viana, Leitza, Cascante…

There are events and activities to suit everyone. If you are visiting over Easter Week, there are also renowned religious dates to remember; make sure you check the calendar so as not to miss a thing.
 

 See the entire spring events calendar

If you are planning an Easter Week getaway

We all love the spring break that the Easter Holidays give us!

In Navarre, these dates are celebrated with gusto, particularly with the religious acts held in villages, where they take on even more meaning: the Bajada del Ángel and the Volatín of Tudela, the capture of Judas in Cabanillas, the Corella Procession, the living Via Crucis in Andosilla, or the colourful Bolantes of Luzaide/Valcarlos, are the most outstanding.

However, this time of year also calls us to wander through the streets and enjoy the numerous cultural and gastronomic events organised. What's more, this is the best time to plan trips and activities after the long, sluggish winter, such as visiting the Royal Palace of Olite or the Castle of Javier, our monasteries and other cultural gems such as the Collegiate Church of Roncesvalles.

 Must-see culture

Adventure parks

Whether you are bringing your family or not, alone or with friends, old or young, this region offers a setting and facilities that caters for everyone.

Adrenaline junkies will not know what to choose first: gigantic ziplines, tree-top circuits, heart-stopping pendulums, hanging bridges or via ferrata. For those that are looking for tranquillity, there are flying chairs, birds of prey exhibitions, boat rides and exotic animals.

There is so much to discover!

More information about adventure parks
Must-see Navarre
Must-see nature

Must-see nature

Lose yourself in a millennial beech forest, contemplate the most turquoise waters you have ever seen in a river, or be thrilled by the emptiness of a desert landscape. All this and much more, all in Navarre.

Must-see culture

Río por la foz

Must-see culture

Navarre is packed full of Romanesque architecture. Churches, convents, collegiate churches and historic urban centres that are right out of medieval legends. To discover the true identity of Navarre, you need to delve into its history. And we can tell you right from the start that there's nothing boring about it!

Must-see gastronomy

Queso y vino rosado

Must-see gastronomy

Enjoy some local speciality pintxos, taste rosé wine at its peak flavour, or try out some authentic traditional Navarrese cuisine...

How long since you truly indulged?